Beleura House and Garden and Peter Nicholson's garden (SOLD OUT)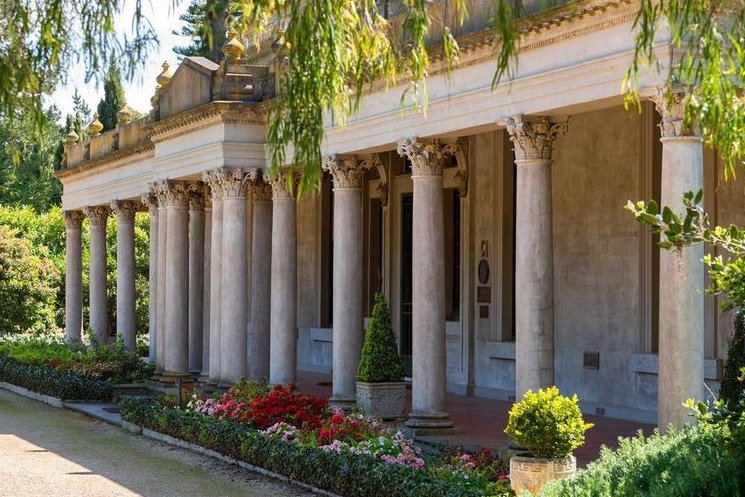 About
Beleura is an 1863 heritage listed Italianate villa which remained as a private residence for 120 years. The elegant original furnishings of the last owner, John Tallis, are in place today. The five-hectare pleasure grounds unfold from one garden into another to create a lively sense of theatre. The romantic ambience existing today is the Italianate style realised by benefactor, John Tallis, with his 1953 research trip in northern Italy yielding much antique statuary. Features include huge specimen trees and a rear stone courtyard from the original nineteenth century garden. Later overlays include large hedges, reflective pools, and a charming kitchen garden.
Peter Nicholson's property (family owned since 1916) is a few minutes' walk away. It has been created as a naturalistic counterpoint to the steadily encroaching urban sprawl and has been returned to shrub land with garden terraces built into the steep slopes. We will also learn of the Beleura Cliff Path and enjoy views of the bay.
NOTE - BOOKINGS LIMITED TO 20 MEMBERS SO PLEASE BOOK EARLY. BOOKINGS MUST CLOSE 5PM TUESDAY 21 FEBRUARY.
This will be a joint event with Australian Decorative and Fine Arts Association
SELF DRIVE: to Mornington Golf Club car park for a 9.40am courtesy bus departure for the few minutes to Beleura. Courtesy bus returns to car park by approx. 3.45 pm.
INCLUDES: Entry fees and courtesy bus, morning tea on arrival and two guided tours of the house and garden plus lunch in the Melba Room. Tour of the Nicholson garden with the owner.
BYO: Bottle of water, masks, hand sanitiser, insect repellent
NOTE: THERE IS A LOT OF UNEVEN GROUND SO MEMBERS MUST BE CAPABLE AND PREPARED FOR THIS AND WEAR STURDY SHOES.
Location
Mornington Golf Car-park
Tallis Drive, Mornington Victoria 3931