Online-Apollo 17 50th Anniv. How Australia Supported Apollo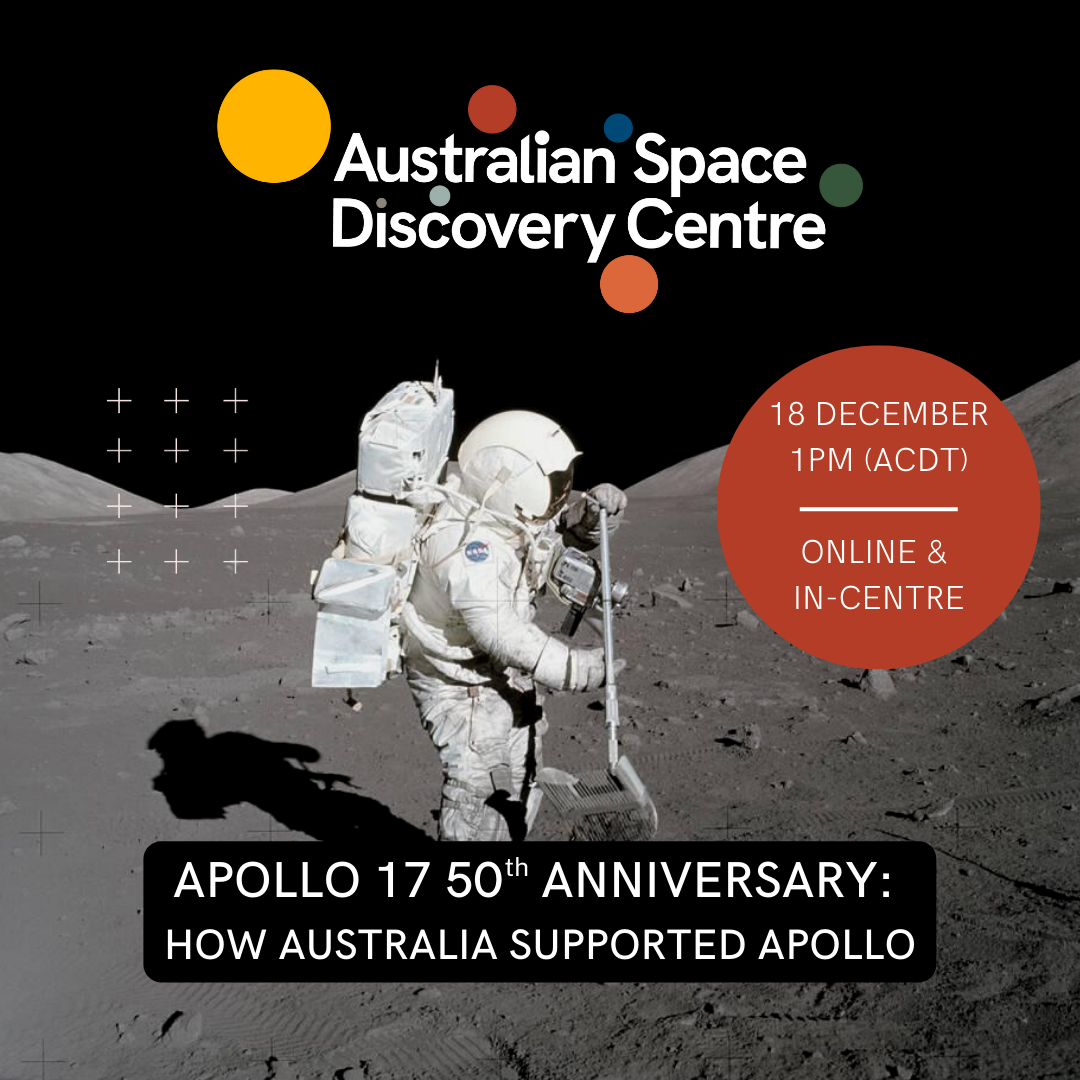 December 2022 marks 50 years since humankind has walked on the Moon or travelled beyond low Earth orbit (LEO). The final Apollo mission launched on December 7, 1972 with Commander Gene Cernan and Lunar Module Pilot Harrison Schmitt landing on the lunar surface December 12 (Australian time), while Command Module Pilot Ronald Evans orbited the surface in the Command and Service module (CSM). NASA tracking stations in Australia supported the Apollo missions, providing vital communications and telemetry links with the astronauts.

The Discovery Centre will be hosting a special event on Sunday, 18th December at 1pm (ACDT) to celebrate Australia's contribution to the last time humans set foot on the Moon, setting the scene for NASA's future Artemis missions. Space Historian Kerrie Dougherty will be joined by Mike Dinn and John Saxon, former managers at NASA's Honeysuckle Creek and Tidbinbilla tracking stations near Canberra, which supported the Apollo lunar missions, to discuss their experiences with Apollo 17.
Prefer to join us in-centre, please click here to register https://www.trybooking.com/CEPZQ
This online session is suited for ages 12 and up.

This online session will be conducted using Microsoft Teams and the joining link is contained within your Trybooking ticket confirmation. You do not need a Microsoft Teams account to join.
For more information, visit discover.space.gov.au
LOCATION
Online event access details will be provided by the event organiser

CONTACT DETAILS
For enquiries please contact the Australian Space Discovery Centre via email at info@discover.space.gov.au or phone 08 8432 1400.
PRIVACY
The Department of Industry, Science, Energy and Resources (the Department) and TryBooking Pty Ltd (TryBooking), as a contractor of the Department, are bound by the Australian Privacy Principles (APPs) outlined in Schedule 1 of the Privacy Act 1988 (Cth) (Privacy Act) which regulates how entities may collect, use, disclose and store personal information.

Your personal information is being collected by the Department to carry out its functions including allowing the public to register, book and purchase tickets on the TryBooking online booking platform for access to the Australian Space Discovery Centre (ASDC) in Adelaide SA, and other ASDC events. The Department may collect from all ticket purchases and event registrations on the TryBooking online ticketing platform, personal information including name, physical address, email address, telephone number and date of birth for the purposes of registering your attendance at events and issuing ticketing information. The Australian Space Discovery Centre may use your email to contact you to provide feedback on your experience.

Your personal information may be disclosed to TryBooking and its staff, ASDC staff and/ or other Department staff, and its staff. Your information may also be used for the department's internal reporting purposes. The Department may also be required to provide some personal information to state and federal health authorities for the purposes of contact tracing during the COVID-19 pandemic.

Personal Information obtained will be stored and held in accordance with the Department's obligations under the Archives Act 1983 (Cth). Personal information obtained will only be used and disclosed for the purposes outlined above and will not be used or disclosed without your consent, except where authorised or required by law. For further information, please refer to the Department of Industry, Science, Energy and Resources' Privacy Policy.

Please refer to TryBooking's Privacy Statement that states how it will collect and use personal information.