Schützenfest Adelaide 2023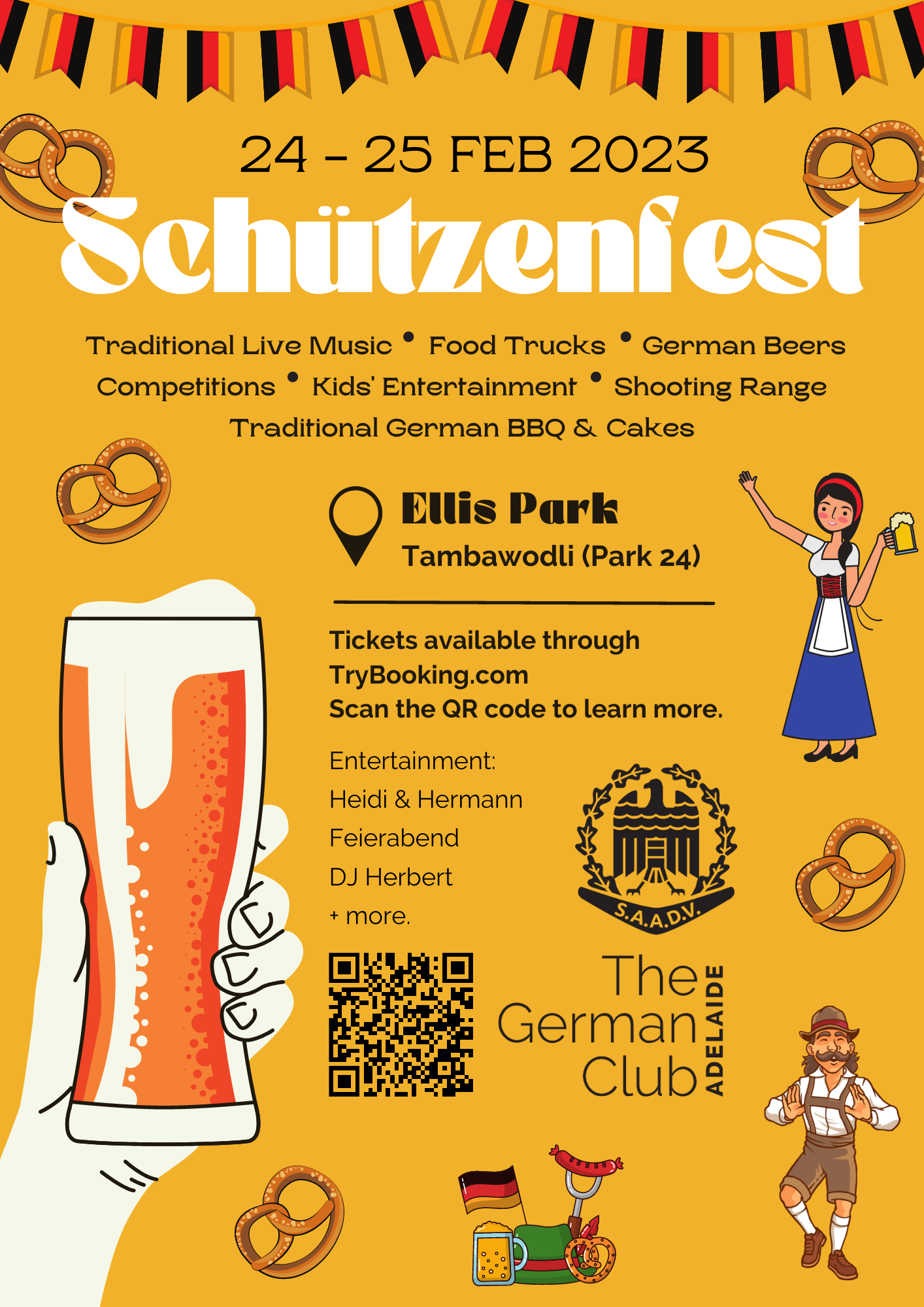 About
SA German Association Inc. invites you to join its 57th Schutzenfest, in the Adelaide Park lands on Friday 24th and Saturday 25th February 2023.
Showcasing everything German including food, music, beers on tap, traditional dancing, and entertainment for children on Saturday. There will be a large space with a main pavilion and lots of seating and shade, two stages with entertainment, and two dance floors- just as you'd find in Germany.
A Schützenfest would not be a Schützenfest without shooting, so a shooting range will be set up, supervised by the licensed German Club Shooting group. To enter the shooting range, a separate ticket must be purchased at the entrance to the range.
On Friday 24th February, gates open at 5pm, with the official opening commencing at 5.45pm. Entertainment will be provided on the main stage from 5pm-10pm by Adelaide Accordion Orchestra, Bund der Bayern, Heidi & Hermann Duet, and DJ Herbert Stauber. The shooting range will open between 5pm-8pm.
On Saturday 25th February 2023, gates open at 2pm, with live music provided throughout the day by the Adelaide German Band, Adelaide Accordion Orchestra, Bund der Bayern, Heidi and Herman Duet, the Feierabend Euroband, and DJ Herbert Stauber.
Entertainment includes 'strong arm' and 'best dressed' competitions, a Bavarian dancing class hosted by Bund der Bayern, and a shooting competition (open 2pm-6pm), with presentation of trophies later on Saturday afternoon.
Entertainment for children includes face-painting, glitter tattoo painting, balloon twisting, bubble shows and circus workshops.
Put on your German dirndl and/or lederhosen and join in on the fun!
See event programs for each day at the bottom of page.
Location
Adelaide Parklands, specifically Ellis Park/Tambawodli (Park 24), accessible via Sir Donald Bradman Drive