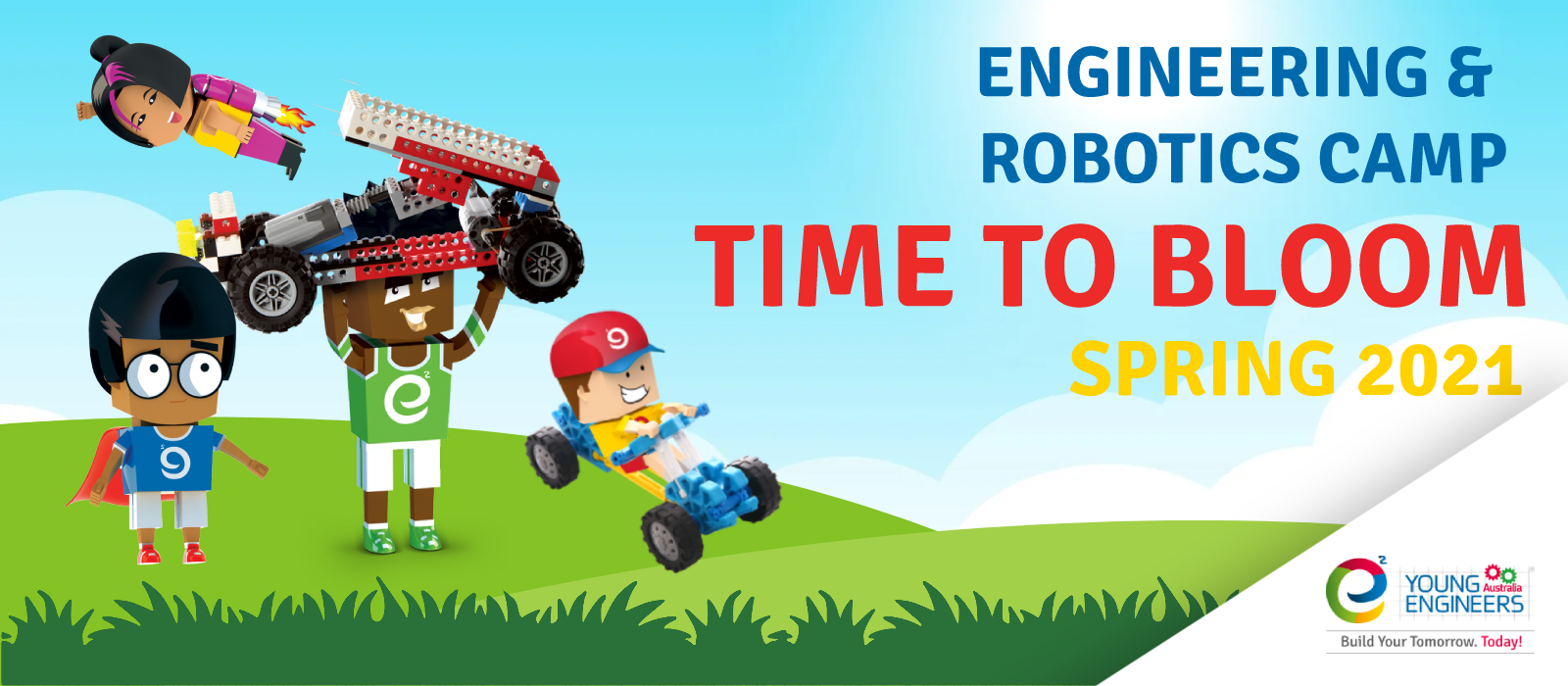 Engineering Camp (Budding Buddies)
September 28, 29, 30
(9am - 3:30pm)
SCOTCH COLLEGE (Swanbourne, Western Australia)
October 5, 6
(9am - 3:30pm)
WESLEY COLLEGE (South Perth, Western Australia)
October 7, 8
(9am - 3:30pm)
SHOP 6, 477 Riverton Drive (Riverton, Western Australia)
These workshops provide students with a full-day of fun, hands-on STEM experience in the areas of mechanical, software and electronics engineering. We present these engineering concepts using age-appropriate methods such as building with Lego(r) bricks, Lego(r) robots and solder-less electronics.

Engineering Camp is a Australia-wide initiative helping kids fall in love with STEM.
Spring is a time to bloom! Our spring theme "Budding Buddies" is all about working in teams to create even more awesome things together. We'll discover some amazing feats that have been achieved by engineers and scientists working together in teams.
NASA Inspired – space exploration has given us gigantic blunders and the most memorable triumphs. We look at one triumphant NASA mission that everyone will find inspiring. We'll be building some NASA-inspired Lego prototypes to celebrate!
Hi-Tech - Google, Facebook... and beyond. What will be the next big thing? Our Young Engineers will be tinkering with Lego bricks and Lego robotics in search the next big thing.
Replace "I" with "We" = Community – we look at how working in teams allows us to tackle bigger and more complex builds. We'll be sharing tips on teamwork and communication to help teams to take on big builds! Satisfaction ensues!
Maximum 2 days per student
Age Group: Perfect for Grade 1-6 (we work in small groups based on ability & interest)
What To Bring: crunch & sip, lunch clearly labelled with child's name & hat.
Multi-Day: you can enrol for more than one day. You will learn and build different models on each day.
Timing: 9am - 3:30pm
What other parents say about our holiday workshops ...
My boys can tell when someone has real passion for what they are doing and sharing. The boys response was Mr Wong and Jack really like kids. Loved it.
Very happy my son had a great day
Child really enjoyed seeing their creations actually work. The radio receiver was a big highlight.
Some of our achievements/milestones so far...
* Helped thousands of students ignite their love of STEM since 2015.
* Scientist in Residence @ Wesley College in 2018, 2019, 2020 and will be again in 2021).
* Partnered with more than 40 schools to run after-school clubs in the city of South Perth, Canning, Melville, Claremont, Cottesloe, Mosman Park, Peppermint, Nedlands, Subiaco, Shenton Park, Subiaco, Stirling, Swanbourne, Wembley, West Perth and Perth.
* Partnered with Scitech to deliver holiday workshops in 2016, 2017, 2018 & 2019.
* Chosen by Scitech to deliver teacher's professional learning session in Early Years STEM Education Expo 2018.
* Chosen by City of Canning to perform in their inaugural 2018 STEAM Carnival.
* Working with children clearance / insured.
See www.perth-south.young-engineers.com.au or more information.

Special Promotion (closed on 2nd September 2021)

Register by 2nd September to receive a complimentary Young Engineers T-shirt.

* All bookings must be paid in full before 11:59pm 2nd September 2021 to be eligible for T-shirt promotion.
* Limited to first 10 students for each workshop.
* Fixed selection of sizes. Maximum one T-shirt per child.
* T-shirts delivered when you attend the Spring workshop.
Location
September 28, 29, 30 - SCOTCH COLLEGE (Swanbourne)
October 4, 5, 6 - WESLEY COLLEGE (South Perth)
Contact Details
Please contact us on 0406542912 if you have any questions or use the contact form button below:
Sessions
SESSIONS
DESCRIPTION
STATUS