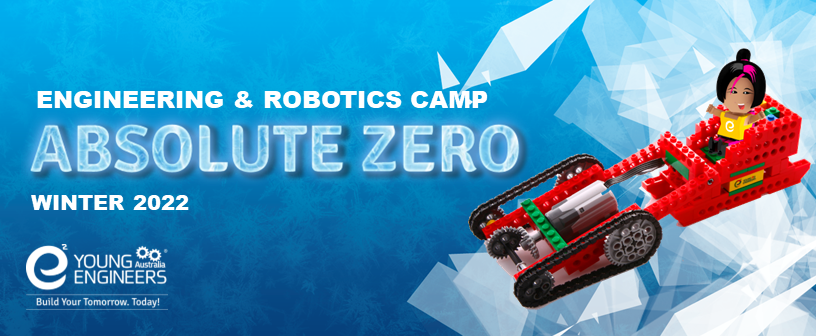 Engineering & Robotics Camp (Winter 2022)
WESLEY COLLEGE
(South Perth, Western Australia)
.....
July 13-14
(2-day program 9am - 3:30pm)
.....
July 11, 15
(1-day program 9am - 3:30pm)


SCOTCH COLLEGE (Swanbourne, Western Australia)
.....July 18-19

(2-day program 9am - 3:30pm)
.....July 18, 19 (1-day program 9am - 3:30pm)
Engineers, physicists and other scientists have always been intrigued by absolute zero, the theoretical temperature when everything comes to an absolute 'freeze'. Scientists have discovered that the normal laws of the physical world starts to breakdown as temperatures approach absolute zero. This has given rise to new possibilities, inventions and a new way of thinking. Join our winter school holiday program to learn about the states of matter - it's so much more than just solid, liquid and gases. We also explore how engineers use energy to help make the world a better place.
1-Day Program - 3 different projects in one big day! Activities differ according to age & ability.
2-Day Program – the above x 2! No activities are repeated.
Age Group: Perfect for Grade 1-7 (we work in small groups based on ability & interest)
What To Bring: crunch & sip, lunch clearly labelled with child's name & hat.
Multi-Day: you can enrol for more than one day. You will learn and build different models on each day.
Timing: 9am - 3:30pm
Our Engineering & Robotics workshops were especially designed to help kids fall in love with STEM (science, technology, engineering, math). It is all about experiential learning, hands-on fun and thinking outside the box. If you've missed out on our weekly after-school programs, don't miss these.
Up STEM Skills – learning is one thing, learning to learn is superior. We focus on analysing the problem, experimenting and prototyping to promote a lifelong love for STEM.

Ignite Curiosity – we don't just remember answers, we leave participants with tantalising questions to promote curiosity and further exploration.

Build Confidence – we focus on mastery giving participants the opportunity to experience "I Can Do It"
Some of our achievements/mileston
es so far...
Helped thousands of students ignite their love of STEM since 2015.

Scientist in Residence @ Wesley College in 2018, 2019, 2020 and will be again in 2021).

Partnered with more than 40 schools to run after-school clubs in the city of South Perth, Canning, Melville, Claremont, Cottesloe, Mosman Park, Peppermint, Nedlands, Subiaco, Shenton Park, Subiaco, Stirling, Swanbourne, Wembley, West Perth and Perth.

Partnered with Scitech to deliver holiday workshops in 2016, 2017, 2018 & 2019.

Chosen by Scitech to deliver teacher's professional learning session in Early Years STEM Education Expo 2018.

Chosen by City of Canning to perform in their inaugural 2018 STEAM Carnival.

Working with children clearance / insured.
See www.perth-south.young-engineers.com.au or more information.

Contact Details
Please contact us on 0406542912 if you have any questions or use the contact form button below:
Sessions
SESSIONS
DESCRIPTION
STATUS