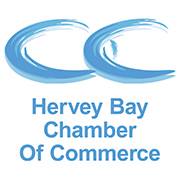 Welcome to the Hervey Bay Chamber of Commerce Online Membership
The Hervey Bay Chamber of Commerce is your portal to business success.
Businesses across Hervey Bay are united by a common goal to optimise their operations for success.
Becoming - or renewing as - a Member of this highly influential business community group provides you with the ability to reap the benefits of access to an extensive and continuously broadening range of tools to optimise your business for a very reasonable annual Membership fee.
Please contact us if you require assistance with determining the type of Membership to best suit the needs of your business.

All Enquiries: