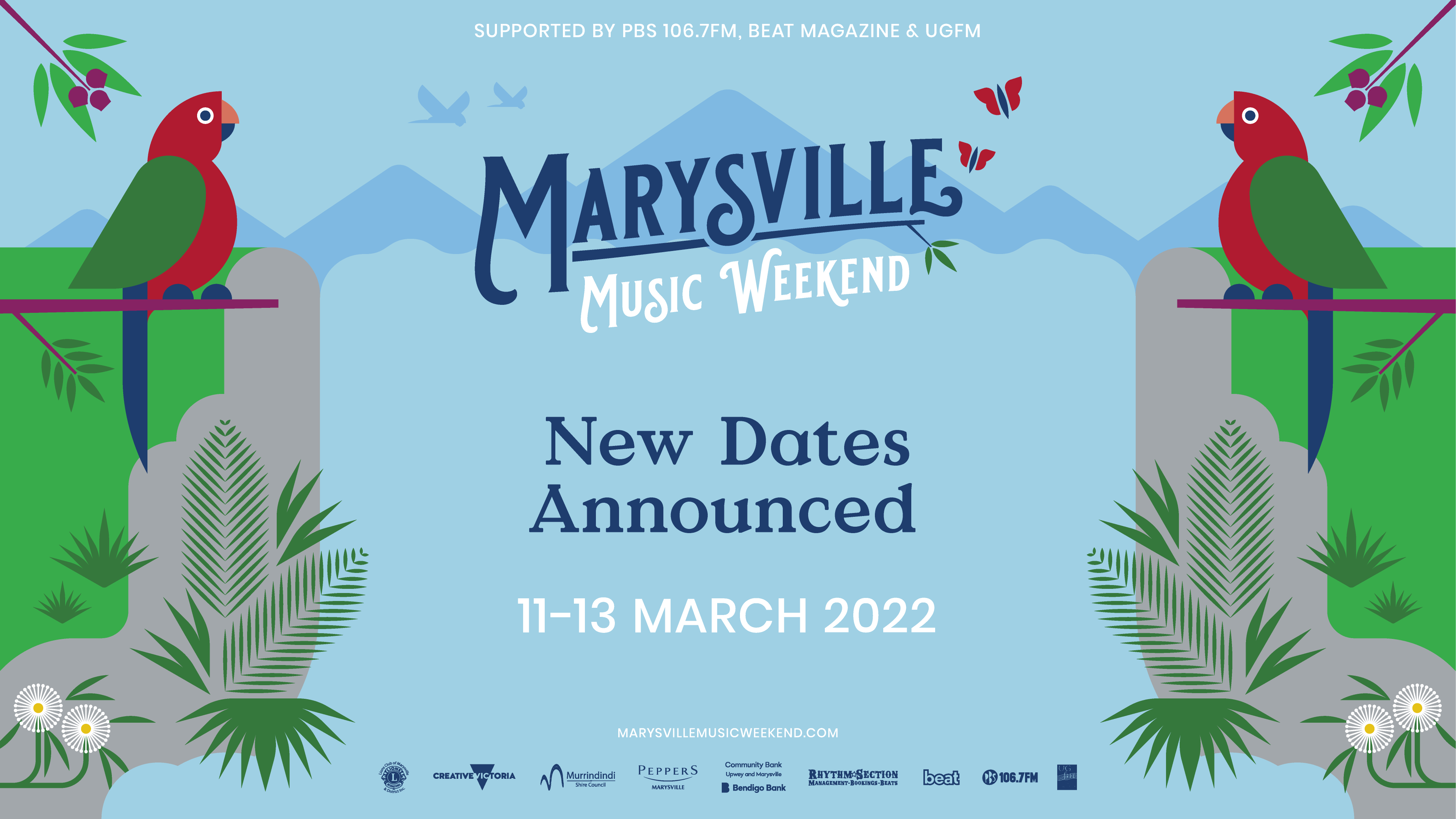 MARYSVILLE MUSIC WEEKEND - RESCHEDULED
It's with deep sadness, but perhaps with little surprise, that the organisers of The Marysville Music Weekend announce the postponement of the 2021 event until the Labour Day holiday weekend of March 11th-13th, 2022.
Amidst lockdowns, border closures and capacity restrictions, Marysville Music Weekend would not have been able to effectively deliver the show promised to ticket holders this year.
The good news is that the entire lineup has been confirmed for the new dates in March, so there'll still be a chance to catch Pierce Brothers, James Morrison, Geoff Achison, Freya Josephine Hollick and many more in 2022.
The event was on the verge of selling out and ticket holders are encouraged to hold onto their tickets which will be valid for next year.
Being a long weekend accommodation in Marysville will be in demand so we recommend you confirm new dates as soon as possible with your accommodation provider. If you are unable to attend refunds are available.

Ticket sales for the event will be paused for the time being until decisions are made about the offering for next year, with any luck the event will be back to its full pre-Covid capacity all guns blazing.
www.marysvillemusicweekend.com
Regards
Marysville Music Weekend
Says event director Bill Bate, "The Marysville Music Weekend is a showcase event in our region, bringing locals and visitors from far and wide. We're pumped about the new direction of the new brand of the Marysville Music Weekend. Building on the strong success of the Marysville Jazz and Blues Weekend, we offer a world class line-up of amazing music, food and drinks all set in our picturesque home of Marysville. Enjoy the country hospitality and join us for a great long weekend."
To aid in maintaining social distancing, this year's event will be presented as four concert sessions in the Marysville Community Centre Stadium.
Friday Evening Session
Saturday Afternoon Session
Julian James & The Moonshine State
Jess Parker
Julian and His Lady
Saturday Evening Session
James Morrison Motown Experience
Geoff Achison and The Soul Diggers
Blues Roulette featuring Jimi Hocking, Nardia, Jesse Valach
Sunday Afternoon Session
Bobby Valentine and The Band of Renown
Velvet
The event is Covid-safe and tickets are strictly limited.
3-day passes (all sessions) are $158.50 plus booking fee.
The Marysville Music Weekend is presented by Lions Club of Marysville and District, supported by major sponsor and accommodation partner Peppers Hotel Marysville, major sponsor Bendigo Bank Marysville and Upwey Branch along with supporters Murrindindi Shire Council, Creative Victoria, local business sponsors and media partners UGFM, PBS FM, and Beat Magazine.
The event has put together a lucky door prize of an artist CD pack. To enter the draw contestants just need to sign up to the mailing list here: http://marysvillemusicweekend.com/
Location
Marysville is only 90 minutes from Melbourne via Healesville and the Black Spur
For further information
Marysville, Victoria, 3779