This production in 2021 will present the Australian Premiere and feature Helpmann award winning performer Kerrie Anne Greenland (Les Miserables) in the title role.
Between 1963 and 1967 Judy Garland sat in her lounge room recording what she hoped would be turned into her revealing, heartfelt autobiography. It never made it to print. Based on these recordings, interviews and stories from her show, Rain or Shine takes the audience on the journey of Frances Ethel Gumm, or as the world "knew" her, Judy Garland.
The production features well known repertoire such as Come Rain Or Come Shine, Over the Rainbow, The Man That Got Away, That's Entertainment, You Made Me Love You, Get Happy and The Trolley Song.
Fan of Judy Garland, Kerrie Anne Greenland began her music theatre career in 2014 as Eponine in the acclaimed Australian production of Les Miserables. She received rave reviews and was awarded the aforementioned prestigious Helpmann for her portrayal of the beloved character, which she continued with through the Asian tour. Other recent adventures for this Australian musical theatre star include the role of Violet Hilton (one of the famous Siamese Twins) in SideShow at the Hayes Theatre Sydney, Cassandra in the Jon English musical Paris: A Rock Odyssey, and her self- penned production of Pictures: Songs from Movie Musicals. In 2018 she played the role of Patsy Cline in the national tour of HIT's perennial favourite Always …Patsy Cline.
"The musical nerd inside of me was jumping for joy throughout the entire performance as Greenland demonstrated her incredible vocal talents. … each song showcasing a new side to Greenland's stunning voice and leaving the audience in awe of her incredible vocal abilities. " BRW 06/18
This show will be presented with restrictions in compliance with the Forge Theatre and Arts Hub's COVIDSafe plan protecting the health of the audience, performers and theatre staff. Thank you for your cooperation.

Venue:

Forge Theatre - Auditorium

Performance Times:
Wednesday 2 June 2021, 11:00 am
Duration:
TBA
Ticket Prices:
Full: $28
Concession: $23 (Seniors/Pensioners)
Group 8+: $23
Students: $23
Children: $18


Forge Friend: Adults: $23 Concession: $18

A BFF membership card will be mailed to your postal address
The BFF discount promotion code to book your tickets online will be issued with your membership card.
Should you have any queries please telephone the Forge Theatre Monday to Friday, 10am to 4pm on 5152 1482.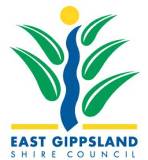 Contact: Forge Theatre and Arts Hub
Email: boxoffice@egipps.vic.gov.au
Telephone: 5152 1482