SPP presents Arsenic and Old Lace - Cabaret Seating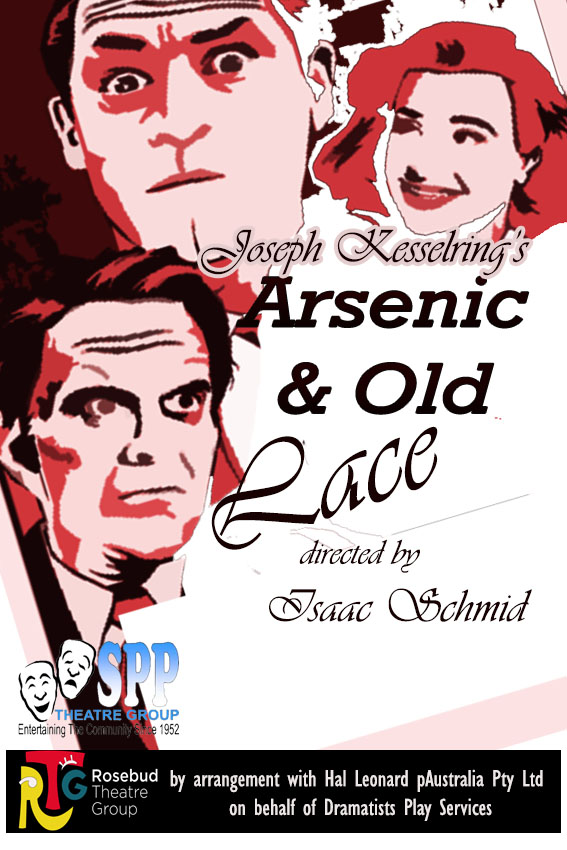 Bring some nibbles or an entire feast, and don't forget something to drink. A great night wining and dining at a table with friends, or at least friendly people, as you enjoy a classic dark comedy.
The play is a farcical black comedy revolving around the Brewster family, descended from the Mayflower settlers but now composed of maniacs, most of them homicidal. The hero, Mortimer Brewster, is a drama critic who must deal with his crazy, murderous family and local police in Brooklyn, New York, as he debates whether to go through with his recent promise to marry the woman he loves, Elaine Harper, who lives next door and is the daughter of the local minister.
His family includes two spinster aunts who have taken to murdering lonely old men by poisoning them with a glass of home-made elderberry wine laced with arsenic, strychnine, and "just a pinch" of cyanide; a brother who believes he is Theodore Roosevelt and digs locks for the Panama Canal in the cellar of the Brewster home (which then serve as graves for the aunts' victims; he thinks that they died of yellow fever); and a murderous brother who has received plastic surgery performed by an alcoholic accomplice, Dr. Einstein (a character based on real-life gangland surgeon Joseph Moran) to conceal his identity, and now looks like horror-film actor Boris Karloff
Location
Rosebud Memorial Hall
994 Point Nepean Rd, Rosebud Victoria 3939
Pricing
All tickets $30 and include complimentary glass of wine on arrival and the show program.
Discounts available for group bookings. Book an entire table and save. Contact us for group bookings. Brendan - 0428 894 914