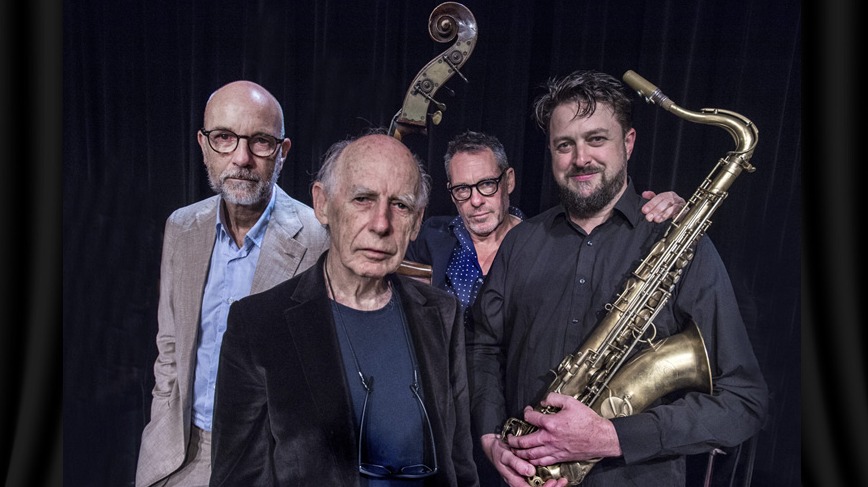 THIS WORLD - 'dream' jazz quartet
UPDATE: CURRENT CAPACITY NOW SOLD OUT.
Mike Nock, Hamish Stuart, Julien Wilson and Jonathan Zwartz continue to celebrate their stunning album, THIS WORLD, with performances across Australia's east coast (listen to a preview).
Hailed by Rhythms Magazine as "sublime" THIS WORLD'S sound is quintessentially Australian, showcasing the quartet's exceptional musicianship.
Each member has contributed compositions for the nine-track album, which was recorded in pristine high definition stereo at Sony Studios by Ross A'Hearn.
Individually the quartet has worked with some of the greatest jazz musicians in the world; combined the ensemble has been awarded almost every Australian accolade and has released a raft of critically acclaimed albums under their own names.
Jonathan Zwartz is an ARIA Award-winning bassist. Legendary jazz drummer Hamish Stuart performed at Wauchope Arts with Lucie Thorne in 2019. Pianist Mike Nock has performed and recorded with many of the world's top musicians, and seasoned saxophonist Julien Wilson completes the quartet.
It was after a show together in late 2018 that THIS WORLD was conceived. The performance was Nock's return to the stage after a six-month hiatus. The joy and vitality of his return to live performance was palpable and the chemistry was immediate.
PERFORMANCE DETAILS:
Friday May 21, 2021. Doors open 7.30pm; music from 8pm.
Wauchope Community Arts Hall, Oxley Lane, Wauchope NSW 2446
Tickets $25;$20 members - online sales only (sorry, no door sales). COVID check in required for admission (see Wauchope Arts website for COVID-safe details).
Catering: beer, wine, softdrinks, choc tops (no BYO)
*audience limit (80) applies - ticketing updates will be advised via email to subscribers, and on Wauchope Arts Facebook page.
Note: 4 ticket limit per purchaser in place while hall capacity restrictions in place
MORE ABOUT THE MUSICIANS:
MIKE NOCK (ONMZ)
New Zealand born pianist/composer Mike Nock is one of the acknowledged masters of jazz in Australasia. Based in Sydney since 1986, he previously spent 25 years in the USA. He is a multi award-winning artist, recipient of the Don Banks Music Award and in inductee of the Australian Jazz Bell Awards Hall of Fame.
JONATHAN ZWARTZ & HAMISH STUART
New Zealander Jonathan Zwartz and Sydney native Hamish Stuart form one of Australia's great musical partnerships. For 30 years they have run the iconic monthly venue, the Starfish Club, together along Sydney's eastern beaches and are the first-call rhythm section for a who's-who of the Australian music industry and international touring acts. Their simpatico is legendary. Zwartz' own albums regularly top best-seller lists and have won numerous awards including an ARIA, an AIR Award and a handful of Australian Jazz Bell Awards. Zwartz recently joined the APRA AMCOS Board of Directors.
JULIEN WILSON
Melbourne saxophonist Julien Wilson is a National Jazz Award winner, Freedman Fellow, received an APRA/AMCOS Art Music Award, and a swag of "Bell" Awards including Australian Jazz Musician of the Year. He runs a number of his own musical groups.
WHAT THE PRESS ARE SAYING:
"The album is a thing of soulful beauty....What musical heavy-weights these musicians are and how effortlessly they weave their magic" - Jazzlocal32.com
"These four musicians are the dream quartet of Australian jazz" - Jazzozmentis