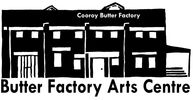 Painting Coloured Portraits with Jandamarra Cadd (SOLD OUT)
Facilitated by Archibald Finalist Dr Jandamarra Cadd you will create a portrait in full spectrum of colours.
In this one-day workshop using acrylic paints you will be guided by a master portrait artist on his personal technique of creating depth and portrait likeness using a full spectrum of colour.
Participants will be required to have a sketch portrait prepared prior so they can get straight into painting..
Open to all artists of all levels. All paints and brushes supplied.
Location
Butter Factory Arts Centre
11A Maple Street, Cooroy Qld 4562