Danielle Binks 'The Monster of Her Age' Book Launch (SOLD OUT)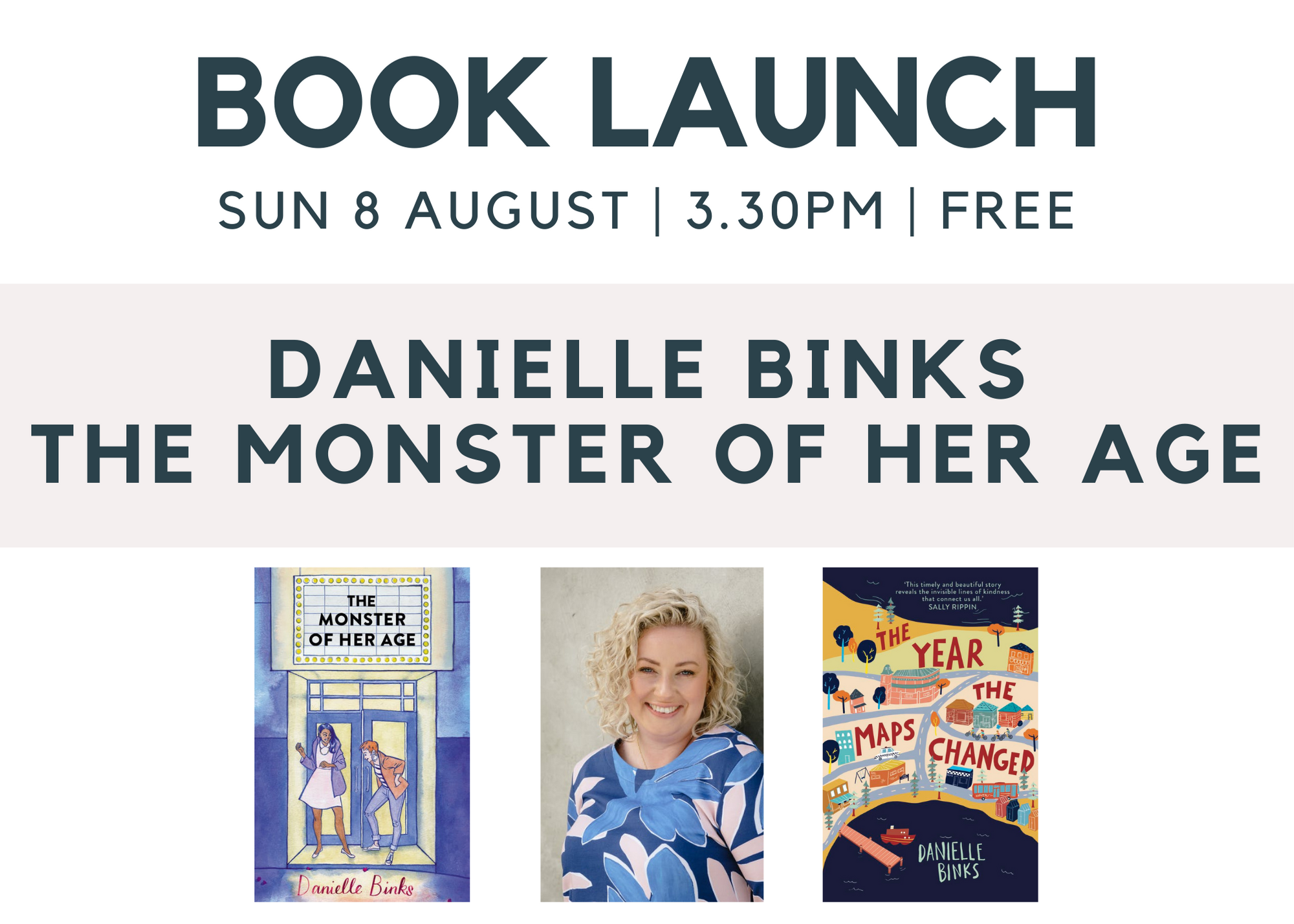 Danielle Binks' debut middle-grade novel,
The Year the Maps Changed
, was one of our most popular children's book for 2020, so we are thrilled to help celebrate the launch of her new YA novel,
The Monster of Her Age
, with an afternoon of rich conversation on the importance of young adult literature and Australian writing, a prize raffle, and the chance to mingle with fellow YA and kid's lit lovers!
The Monster of Her Age is a young adult coming-of-age story on love, loss, family, forgiveness and film. It's about embracing the things that scare us, in order to be braver.
How do you ruin someone's childhood? You let them make-believe that they are a monster. But sooner or later, the mask must come off...
Ellie Marsden was born into the legendary Lovinger acting dynasty. Granddaughter of the infamous Lottie Lovinger, as a child Ellie shared the silver screen with Lottie in her one-and-only role playing the child monster in a cult horror movie. The experience left Ellie deeply traumatised and estranged from people she loved.
Now seventeen, Ellie has returned home to Hobart for the first time in years. Lottie is dying and Ellie wants to make peace with her before it's too late. But forgiveness feels like playing make-believe, and memories are like ghosts.When a chance encounter with a young film buff leads her to a feminist horror film collective, Ellie meets Riya, a girl who she might be able to show her real self to, and at last come to understand her family's legacy - and her own part in it.
Danielle Binks
is a writer, reviewer, agent and book blogger who lives on the Mornington Peninsula.
The Monster of Her Age
is her first solo YA novel. Prior to that,
The Year the Maps Changed
, Danielle's debut middle-grade novel, was a CBCA Notable Book for Younger Readers 2021, longlisted for the ABIA Book of the Year Award for Younger Children 2021, shortlisted for the Readings Children's Book Prize 2021 and longlisted for the Indie Book Awards 2021. Danielle also edited and contributed to
Begin, End, Begin
, an anthology of new Australian young adult which won the ABIA Book of the Year for Older Children and was shortlisted in the 2018 Gold Inky Awards.
This event is free but bookings are essential. We will be operating according to COVID-safe regulations and as such all attendees will be required to wear masks and check-in on arrival. Please do not attend if you are unwell.
Location
Farrells Bookshop
143 Main Street, Corner Barkly Street, Mornington Vic 3931
Contact Details