Historical Instruments Concert
Historical Instruments Concert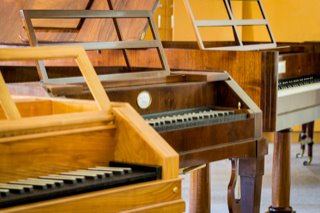 Please be seated by 7:20pm.
**Due to the COVID-19 situation in Sydney, this event has been rescheduled to 28 September 2021.**

Join Dr Scott Davie, Lecturer in Piano at the ANU School of Music, and some of our finest keyboard students for a showcase of the ANU Historic Instruments Collection.

Hear Scott and ANU School of Music students perform music on period instruments for which it was composed - with short explanations of the development of keyboard instruments over time.
Online bookings available until 7pm on the night, subject to availability.
Location
Larry Sitsky Recital Room, School of Music, Australian National University.
William Herbert Place, Canberra ACT 2601
Contact Details
Tony Henshaw at friends.som.anu@gmail.com or telephone 0400 022 770