Metro Arts and Brisbane Festival present




Wilbur the Optical Whale (SOLD OUT)




indelabilityarts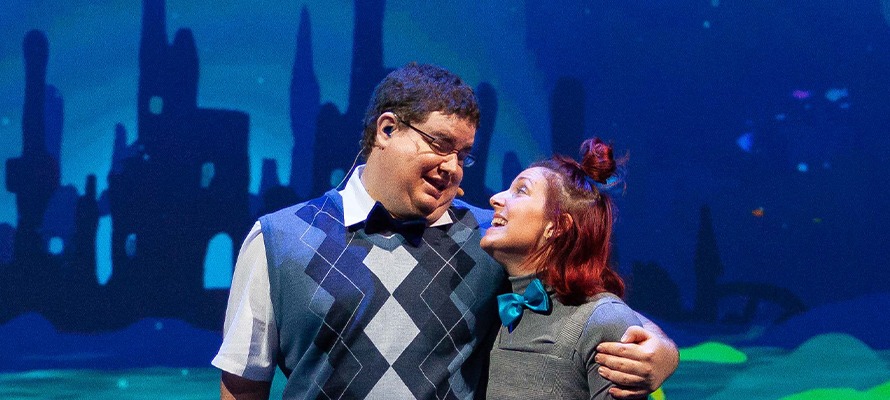 A fully immersive, interactive and accessible story for children about friendship and celebrating difference.
Created by inclusive theatre company indelabilityarts, Wilbur the Optical Whale is a fully immersive, interactive and accessible story for children about friendship and celebrating difference.
Using alternative storytelling methods, including interactive media with integrated Auslan, circus, music, movement and spoken word, this heartwarming production delivers a strong anti-bullying message and promotes acceptance.
All performances are relaxed allowing audiences to engage with the work on their own terms in a calm and inviting 'underwater' setting.
Underwater Sea-Squad Workshops
After purchasing tickets to a performance of Wilbur the Optical Whale you will receive an invitation to attend a FREE Underwater Sea-Squad Workshop prior to the show. Children choose an underwater sea creature to create using a variety of visual art methods, textures and colours while exploring themes of kindness, empathy and celebrating difference. When they attend the show, they will see their photographed artwork incorporated into the performance, and will know that they had a part to play in creating the magical underwater world of Wilbur the Optical Whale.
Book one of the Wilbur performances to receive your workshop invitation!
Workshop 1: Tuesday 21 September 11am
Artwork created in Workshop 1 will be included in the performances on Wednesday 22nd September & Thursday 23rd September.
Workshop 2: Thursday 23 September 2:30pm
Artwork created in Workshop 2 will be included in the performances on Friday 24th September & Saturday 25th September.
PERFORMANCE DATES
10.30am, 22 - 25 September 2021
1.00pm, 23 & 25 September 2021
LOCATION
New Benner Theatre
Metro Arts, 97 Boundary Street, West End QLD 4101
The easiest way to access Metro Arts is to enter West Village from Boundary Street, wander through the garden area, and make your way down Factory Lane. You can find more information to help plan your visit here.
PRICES
General Admission: $25.00 + booking fee
DURATION
Approximately 45 minutes. No interval.
WARNINGS
Suitable for ages 3+. All performances will be relaxed and spaces will support needs of audiences. Please note - a lockout period applies. Latecomers may be admitted at a suitable break in the performance.
ACCESSIBILITY NOTE
Auslan Interpretation is incorporated into this work.
Metro Arts' New Benner Theatre is wheelchair accessible. Tickets for patrons in a wheelchair, with accessibility needs and/or Companion Card holders are not available online. Please call Metro Arts on 07 3002 7100 Monday to Friday, 9am - 5pm to enquire or make your booking. Please be aware there are limited number of wheelchair spaces available per show.
COVID-19 PRECAUTIONS
We take the safety of our patrons, staff and artists seriously. Metro Arts is operating in line with current Queensland Government guidelines. Please review our updated Terms and Conditions, in addition to Trybooking's Terms and Conditions prior to purchasing tickets. If you are unwell, please refrain from attending events at Metro Arts. Please note, Patrons may choose their preferred allocated seats at time of booking, however, Metro Arts reserves the right to reallocate your tickets within the venue as required. Upon entering the Venue you will be asked to scan a QR code and enter your details (full name, mobile and email or residential address). If you have any questions, please contact Metro Arts.