AWEMS Medicine in the Elements Conference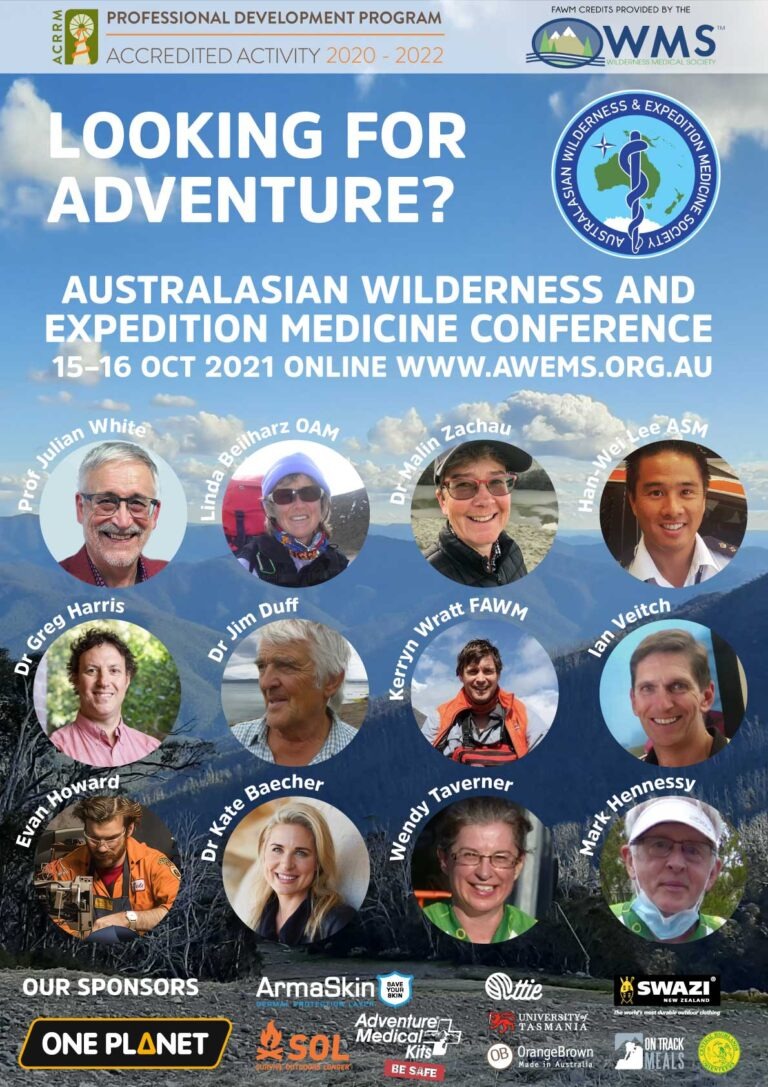 As the first academic conference for the Australasian Wilderness & Expedition Medicine Society, 'Medicine in the Elements' will present a degustation menu of speakers and practical workshops that showcase medicine at its most extreme. Our speakers include top expeditioners, researchers, and medical professionals working in a broad range of environments. They will inspire you to take a step outside your comfort zone and into the elements. Now Online only due to Covid-19 restrictions.
Become an AWEMS member at https://awems.org.au/become-a-member/ to enjoy great discounts and ongoing wilderness and expedition medicine content.
Friday 15/10/21: 6:45pm ONLINE tickets to the University of Tasmania Extreme Sports Medicine Session
Saturday 16/10/21: 8am-5:30pm ONLINE Academic conference - range of exciting speaker presentations and workshops.
Saturday Evening: 6:30pm ONLINE Round the Campfire with Dr Jim Duff - relax around the online campfire w
hilst listening to the ill
uminating tales of Jim Duff!!
Jim has more
than 30 years' experience of climbing, trekking and teaching wilderness medicine, first aid and leadership in the Himalaya, and is the lead author of Australia's first wilderness medicine textbook!
*Quoted times are for Melbourne*
Those who purchased in-person tickets or accommodation should have recieved an appropriate refund.
T's & C's: Whilst we are going full steam ahead to give you both in-person and online events, like any good scout we are prepared (for interruptions from COVID-19). If we are unable to hold our in-person event, we will automatically move all in-person ticket holders to an online ticket, and refund the difference in price, including accommodation. (Please note for early-bird tickets a t-shirt is included, and the cost of this will be subtracted from the refund amount). Whilst every effort will be made to keep the event as advertised, we reserve the right to change the conference as needed.
Location
Online event access details will be provided by the event organiser

Contact Details