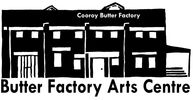 Unleash Your Creative Potential with Rose Hewartson (SOLD OUT)
This fun workshop by abstract artist Rose Hewartson will concentrate on the art of creativity. You will be guided through various exercises to activate your creative potential. Starting with charcoal and then progressing to paint, the aim for this workshop is to become as creatively free as possible.
Sunday 19 September 10am - 3pm.
Location
Butter Factory Arts Centre
11A Maple Street, Cooroy Qld 4562