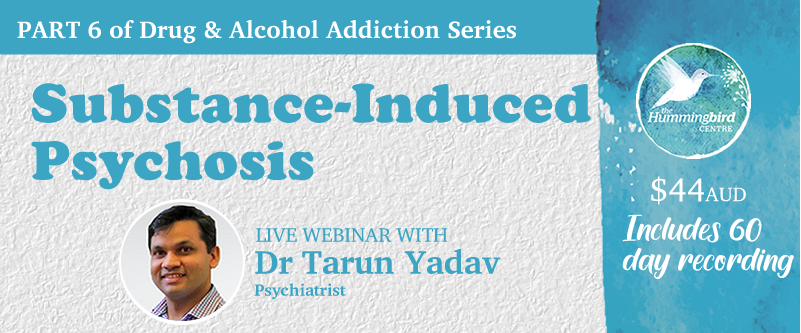 Part 6 - Substance-Induced Psychosis

Webinar & Recording
This webinar will provide a thorough overview of Substance-Induced Psychosis, including
Epidemiology;

Neurobiology;

Clinical formulation to differentiate from other disorders;

A thorough summary of the latest evidence-based treatment recommendations.
​​​​​​​This webinar is a must for anyone working with substance addiction and dependence.
Dr Tarun Yadav is a Fellow of Royal Australian and New Zealand College of Psychiatry with special interest in Addiction. He has been working part time as a Specialist with Drug and Alcohol Services in Hunter New England Local Health District along with being Conjoint Lecturer at Faculty of Health and Medicine, The University of Newcastle and in private Practice. He was also a specialist with Black Dog Institute Mood disorder clinic.
$44AUD
Friday 26 November 2021 2:00 PM - 3:00 PM (UTC+11)
A 60 day recording access is also included in the ticket.
OR join the whole series of 6 webinars for $220AUD!