P&A Conference Registration 2022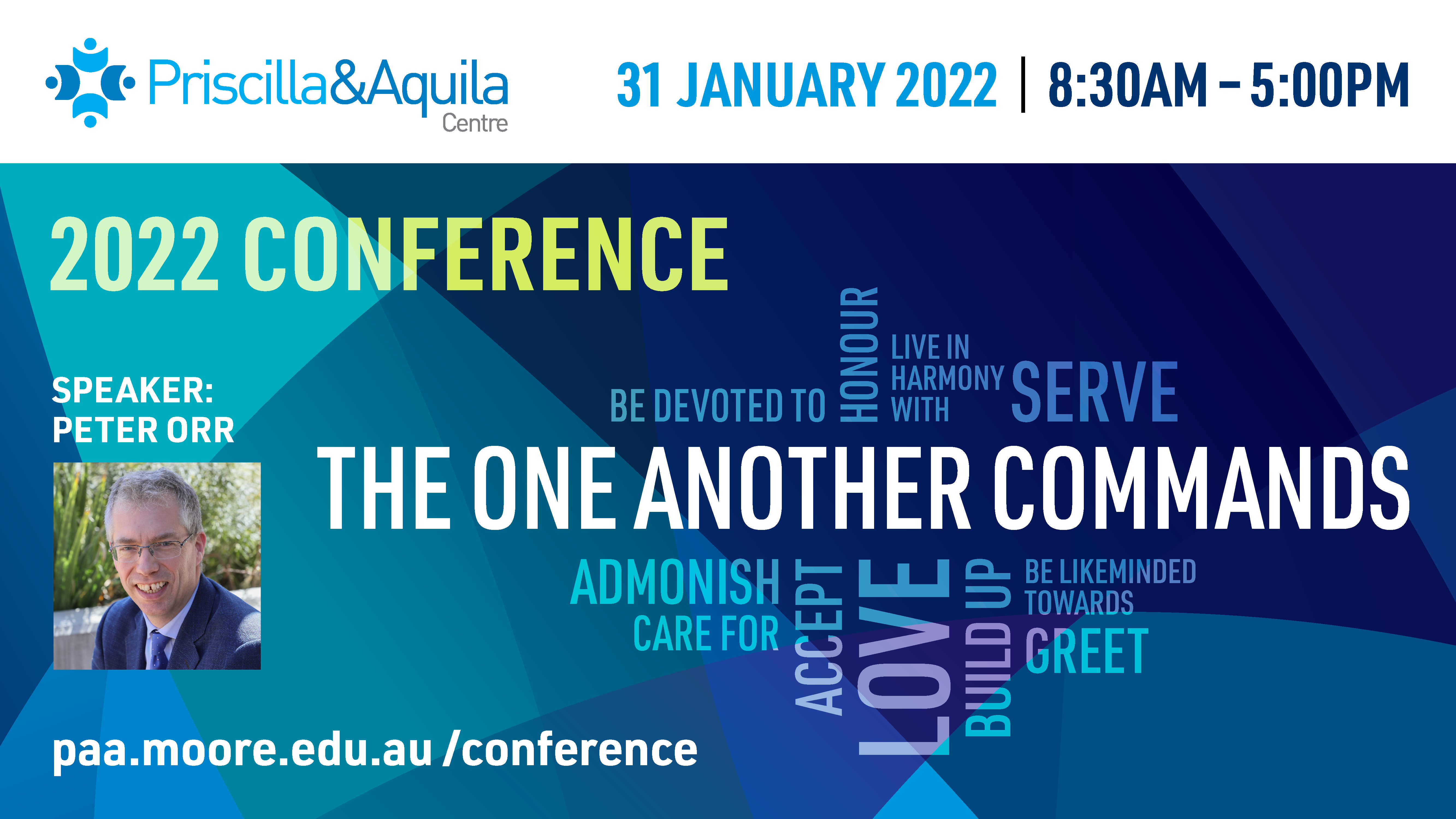 Main speakers: Peter Orr
About the conference
Every year, the Priscilla & Aquila Centre hosts a conference that focuses on the application end of complementarianism. The aim of the conference is two-fold: (i) to encourage women in a variety of ministries; and (ii) to think more seriously and creatively about how men and women can work better together in ministry.
In 2022, the focus of the conference will be on the "one another" commands. These commands are, too often overlooked in the discussions about the ministries of men and women. Moore College New Testament lecturer Peter Orr will be helping us understand the relationship between Christians generally, as well as the relationships between men and women in Christ more specifically. What does it look like for us to love one another?
What are the different ways we are to speak with one another? Peter will help us see how to live out the one another commands both privately and publicly, including upfront in the Sunday gathering.
See https://paa.moore.edu.au/conference/2022-conference/ for further details and information about the speakers and electives.
Please note: this conference will be run both face-to-face as well as via livestream. Provided everything goes smoothly with the technology, all talks and electives where speakers have given their consent will be livestreamed. If we are unable to meet face-to-face, the plenary talks and all of the electives will be pre-recorded with live and interactive Q & A sessions at the end of each session.
The Livestream Links and relevant information will be sent out on Friday 28th January. The livestream links/recordings will be remain active for those who have booked tickets - for 2 weeks after the event.
Please note: Working as a complementarian team in student ministry elective in the first session will only be available to watch via zoom or attend on the day of the conference. The recording will not be made available after the event.
TICKET INFO:
***IN PERSON TICKET SALES HAVE CLOSED DUE TO REACHING CAPACITY UNDER COVID RULES***
LIVESTREAM TICKET SALES CLOSE 3PM FRIDAY 28TH JANUARY 2022.
Standard Ticket rate is available until January 14th. Late tickets will be available from the 15th Jan at a higher rate.
Livestream tickets will remain at the same price for the duration of ticket sales. All livestream tickets are individual only. No group tickets available.
If you have any financial difficulties please contact Jane Tooher.
Monday 31 January 2022 8:30 AM - 5:00 PM (UTC+11)
Moore Theological College
1 King St
Newtown, NSW 2042