BUMS Coorparoo Jam- September 2021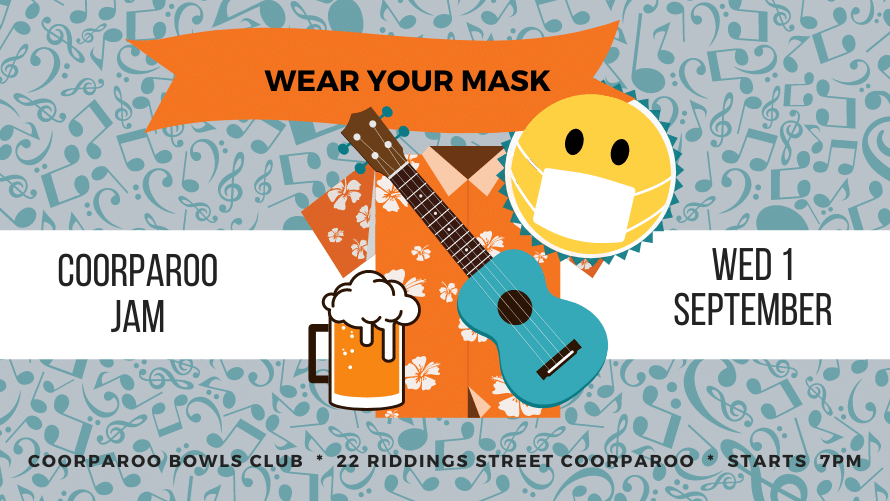 Get ready to jam along, real time, to some great songs and maybe discover a new favourite. Bar open. No food at jam. Ring CBC 07 3394 2121 to see if kitchen will be open. This is a masked event! Bring your masks.
A COVID Safe jam.
TICKETS $5
Financial BUMS use promo-code received Monday 23 August via email.
THIS IS A MASKED JAM - WE NEED YOUR HELP TO MAKE THIS A COVID SAFE EVENT
Please wear your mask when entering, exiting, chatting or moving around at the jam unless you have a lawful reason not to.
Masks can be removed when seated 1.5m apart, and while eating or drinking. You must be seated to eat and drink.
Set leaders will remove their mask while performing.
PRIZES for Best Mask (His & Hers) - Get Creative!
Please note: There is a booking limit of 2 per jam regardless of ticket type. As places are limited and in demand, to keep it fair for all, each event is limited to two tickets per booking.
Contact details are now required for each attendee to assist us to meet government requirements for contact tracing. You will be required to supply for each attendee:
First name
Last name
Email address
Residential address (if no email unavailable)
Phone number
Location
Coorparoo Bowls Club
32 Riddings Street, Coorparoo, Brisbane QLD 4151
Contact Details