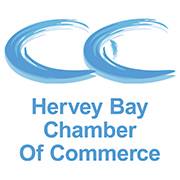 Join the Hervey Bay Chamber of Commerce for Breakfast
on Wednesday 29 September 2021 at the Beachhouse Hotel
Topic:

The NDIS four years on: from an SME perspective
Guest Speakers
Melinda Everett and Andy Riley
Senior Sector Development Officers with National Disability Services
After four years what does the NDIS market look like for those currently working in the Disability Sector - or those wanting to?
The introduction of the National Disability Insurance Scheme (NDIS) has enabled participants to access supports and services that may not have been previously possible. This has created a dramatic increase in the range of businesses in the sector and presents a substantial opportunity to develop services and products to meet these needs. However, the complexity of entering and navigating the system is often cited as a barrier for new and existing businesses to successfully deliver services.
This presentation will look at the market is now, what the future projections suggest nationally, regionally and locally, as well as some of the basic system understandings that are needed to provide goods and services within an NDIS context.
Melinda Everett and Andy Riley are Senior Sector Development Officers with National Disability Services, which is the national peak body for non-government disability service provision. Melinda works with businesses in the area of direct provider/business support, whether through advocacy, one-to-one assistance or the provision of information and training sessions.
Andy is based in Hervey Bay and specialises in working with Wide Bay Burnett disability businesses with a focus on workforce shortages and the establishment of NDIS micro business/contractors. Most recently Andy has led the successful 'Inclusive Acumen' pilot project and is known locally for her long-term contributions to the Community Services sector.
Thank you to our Business Sponsor Simple Solutions
Simple Solutions Training & Consulting was founded by Natalie Sell our CEO in 2005, we are a Registered Training Organisation delivering Health and Community Industry Training. Simple Solutions is also a Registered NDIS provider delivering support services to NDIS participants across the Fraser Coast Region. We have established two Social Enterprises – Fraser Coast Fudge and SSoulitude Coffee, where we believe that employment opportunities form a critical part of an inclusive and empowering community for people with a disability.