Compost in Agriculture - Stanthorpe Workshop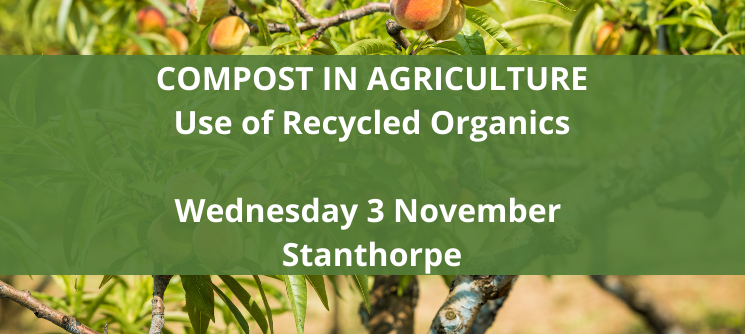 This workshop is part of a series sponsored by the Queensland Government through the Department of Environment and Science that will take place across regional Queensland. The workshops will help end users understand the benefits and effective use of compost and mulches produced from recycled organic inputs. This will help the Organics Recycling Industry better understand and respond to the needs of the current and emerging agriculturalists.

This workshop is being held in Stanthorpe, Qld
These workshops are a partnership between the Australian Organics Recycling Association and the Queensland Farmers Federation. The workshops are being delivered by David Hall, a leading Agronomist who will explain the commercial and environmental benefits derived from the use of compost in the Queensland Agricultural Industry.
Workshop Outline
9am - Arrivals - Tea and Coffee
9.15am - Soil Quality and Health
9.50am - What is compost and what is not?
10.30am - MORNING TEA
11am - Is all compost the same?
11.30am - How much do I need to apply?
12pm - How long will it take to see results?
12.30pm - LUNCH
1pm - Contamination
1.30pm - Case Studies
2pm - Q and A
2.30pm (approx) - event close.
There is no charge for attendees for this workshop; proudly supported by the Queensland Government through the Department of Environment and Science.
Location
Stanthorpe (venue TBC)

Contact Details