CCL: Commanding the heart: Anger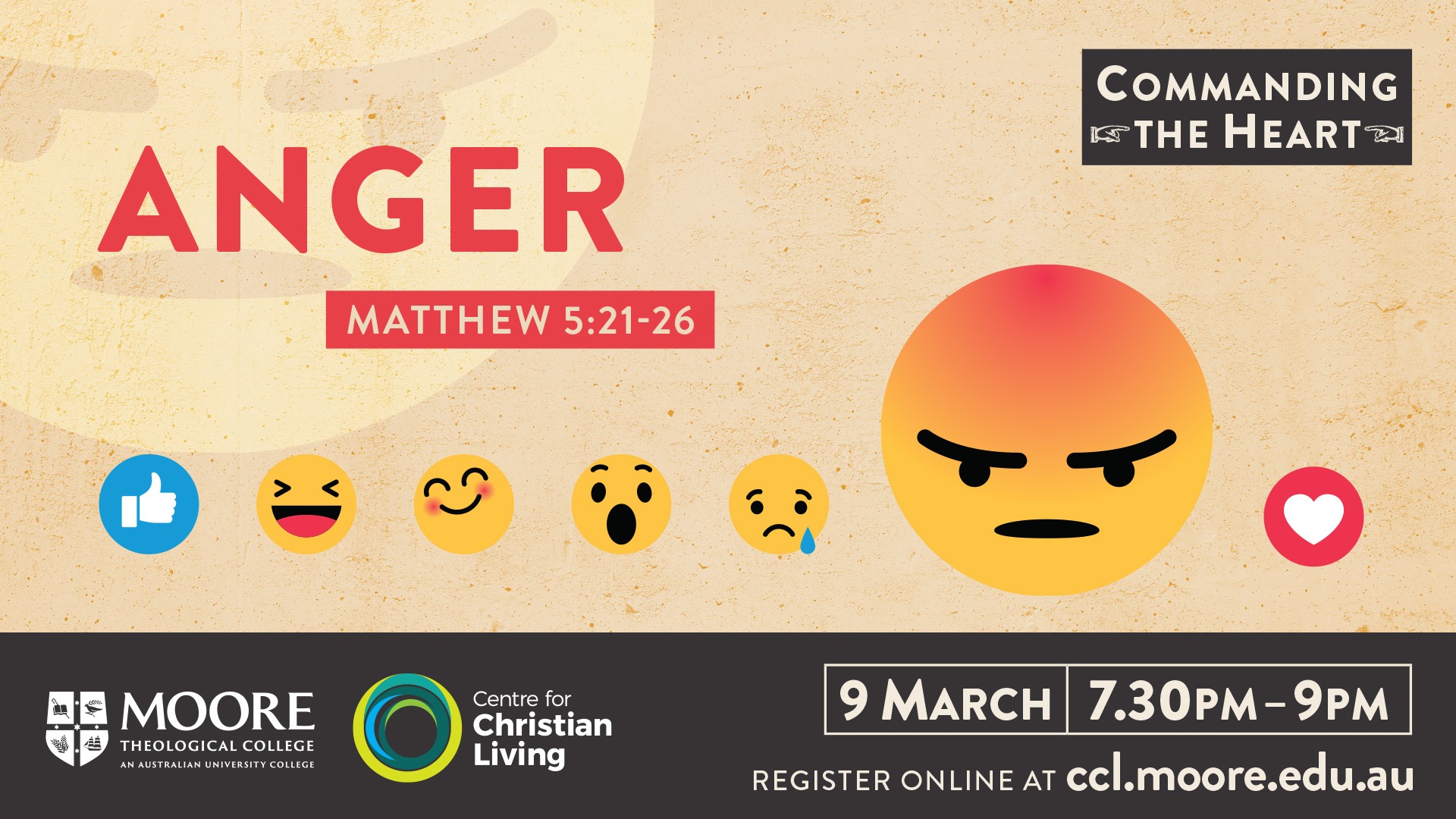 When?
Wednesday 9 March 2022. Talks and Q&A: 7:30-9:00pm; supper for in-person attendees: 9:00-9:30pm (GMT +11 Australian Eastern Standard Time).
If you can't tune in on the night, the event will be recorded, and everyone who has registered will have access to rewatch the video almost immediately after the event's conclusion.
Where?
In person in Marcus Loane Hall, Moore Theological College, 1 King St, Newtown.
Via livestream (URL supplied upon registration).
Cost
In person tickets: earlybird: $15 ($20 after 2 March).

Please note: bookings for in-person tickets close 3pm Wednesday 9 March.

Household licence (livestream): $10.
Groups/churches licence (livestream): $60. (Please note: Under this licence, all members of the group may livestream the event from wherever they are.)
About
Violence is not only a physical activity, it's also something that lurks in our hearts. The Lord Jesus cautions us that refraining from physical violence is only half of the equation. We are also liable for our thoughts towards one another. Kingdom righteousness demands that Christians pursue reconciliation with one another, rather than harbouring a grudge. This is urgent work!
Plan to join us for our first event of 2022 as CCL Director Chase Kuhn and Archdeacon for Women Kara Hartley consider how the command to not murder exposes the anger in our hearts.
About our speakers
Chase Kuhn is the Director of the Centre for Christian Living and Lecturer in Christian doctrine and ethics at Moore Theological College.
Kara Hartley is the Archdeacon for Women in the Anglican Diocese of Sydney.
Location
Moore Theological College
1 King St, Newtown, Newtown NSW 2042
Contact Details
Centre for Christian Living
Moore Theological College
1 King St
NEWTOWN NSW 2042
Australia