Circus Workshops for Everyone!!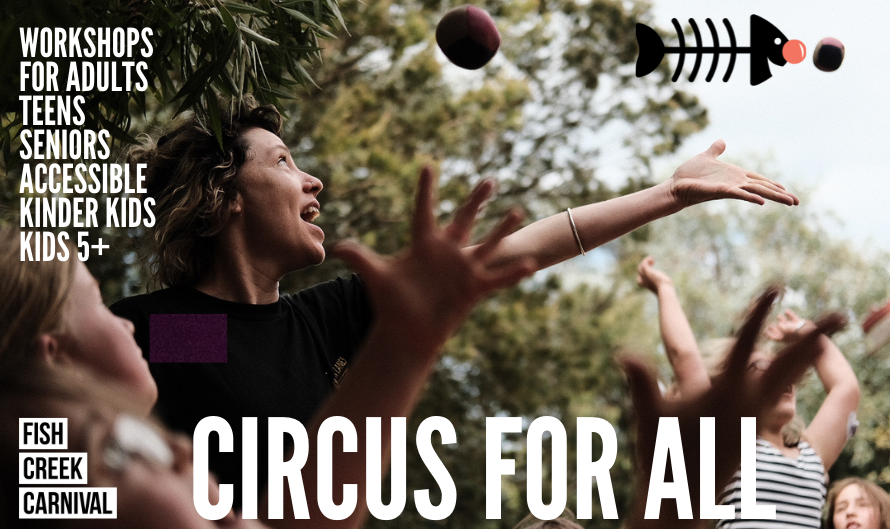 Circus workshops for everyone to brighten your holiday period!
You've opened your presents, you are sick of screens and the holidays have barely begun!
Maybe it's time to learn something new?
Between Christmas and New Year The Fish Creek Carnival are holding a series of Circus Workshops.
From Kinder to Senior there's always something to try in the circus.
Age and access appropriate classes will be run by two of Australia's greatest workshop leaders.
In circus we never say, "I can't do that", we say, "I can't do that YET!"
MONDAY
| | |
| --- | --- |
| Teens | 2.30pm - 4.00pm |
| Adults | 4.30pm - 6.00pm |
TUESDAY
| | |
| --- | --- |
| Seniors | 10am - 11am |
| All Ages & Accesible | 2.00pm - 3.30pm |
| Adults | 4.00pm - 5.30pm |
WEDNESDAY
| | |
| --- | --- |
| Kinder Kids & Toddlers | 9.30am - 10.30am |
| Kids 5+ | 11.30am - 12.30pm |
| Kinder Kids & Toddlers | 9.30am - 10.30am |
| Kids 5+ | 11.30am - 12.30pm |
THURSDAY
| | |
| --- | --- |
| Kinder Kids & Toddlers | 9.30am - 10.30am |
| Kids 5+ | 11.30am - 12.30pm |
| Kinder Kids & Toddlers | 9.30am - 10.30am |
| Kids 5+ | 11.30am - 12.30pm |
Monday 27 December 2021 - Thursday 30 December 2021 (UTC+11)
Location
Fish Creek Town Park

Contact Details
Sessions
SESSIONS
DESCRIPTION
STATUS