Flinders Street Suburban Shuttles - Saturday 27 Nov 2021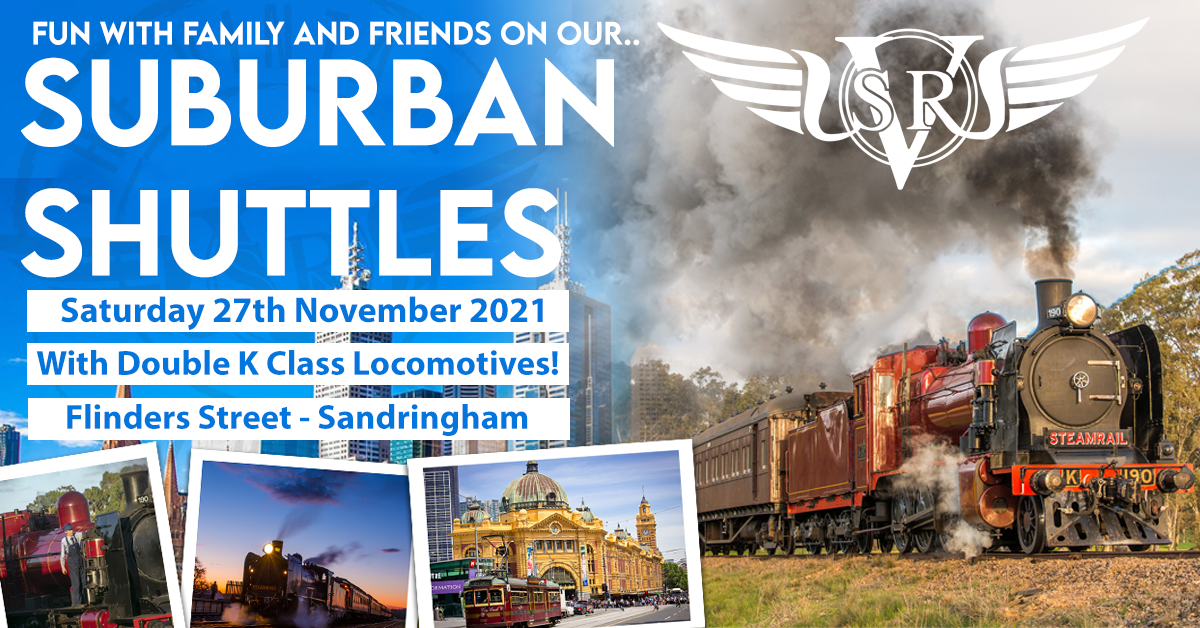 Join us as we operate two steam engines with Heritage 'E type' carriages on our suburban shuttles, departing Flinders Street Station on a scenic 1 hour return journey to Sandringham, featuring two K Class steam locomotives (K153 & K190).

These Shuttles will travel on a scenic 1 hour return journey along the Sandringham Line, through the suburbs and along the bay. Travel in our heritage wooden 'Red Rattler' carriages dating back to 1908, featuring compartment seating, opening windows & pressed tin ceilings.

Enjoy a fun family day out through Melbourne's scenic bayside suburbs onboard The Vintage Train.

NOTE: DUE TO PLATFORM AVAILABILITY AND COVID-19 CLEANING REQUIREMENTS, THESE STEAM TRAIN RIDES DEPART TO AND FROM FLINDERS STREET ONLY, PASSENGERS CANNOT BOARD OR LEAVE THE TRAIN AT SANDRINGHAM.
Timetable

Shuttle 1 -
Flinders Street dep. 09:31AM, Sandringham 10:00AM to 10:10AM, Flinders Street arr. 10:41AM

Shuttle 2 -
Flinders Street dep. 10:52AM, Sandringham 11:20AM to 11:30AM, Flinders Street arr. 12:01PM

Shuttle 3 -
Flinders Street dep. 12:12PM, Sandringham 12:40PM to 12:50PM, Flinders Street arr. 1:20PM

Shuttle 4 -
Flinders Street dep. 2:52PM, Sandringham 3:20PM to 3:30PM, Flinders Street arr. 4:01PM

Shuttle 5 -
Flinders Street dep. 4:12PM, Sandringham 4:40PM to 4:50PM, Flinders Street arr. 5:20PM
SHUTTLE 1, 2, 3, 4 & 5
Adults $32.50
Under 17 $13
Family $80 (2 adults & 2 children OR 1 adult & 4 children)
Under 3 Free
COVID SAFE PRACTICES
Under current COVIDSafe practices, Face Masks will be required for all passengers travelling on our trains unless a lawful reason not to wear one applies. Face Masks are strongly recommended where physical distancing of 1.5 metres from others cannot be maintained, such as on platforms and when joining / leaving our train. Movement about the train will be restricted to your allocated seat and our on-train services such as our toilet facilities and Souvenir sales where provided.

Our volunteers will ensure high touch areas such as door handles and handrails are cleaned regularly. Our train will undergo a Deep Clean whilst the train is at the destination, or between each service in the case of shuttles.

All passengers travelling will be required to have a purchased ticket in advance with contact details of all persons travelling to be retained for Contact Tracing purposes in line with current government advice. Passengers will be required to check into the QR Code provided for each carriage (please see Steamrail Staff to manually record your details if you do not have access to a smartphone) and in line with updated government requirements, all passengers are required to be Double Vaccinated against COVID-19 to travel. Refunds will not be provided in the event you are unable to travel due to not being Double Vaccinated.

PROOF OF VACCINATION REQUIRED
As per government requirements, all passengers (16 years and over) travelling will be required to show proof of Vaccination Status via the following methods -

COVID-19 digital certificate via the Service Victoria app.
COVID-19 digital certificate saved to a smartphone wallet.
Printed copy of COVID-19 digital certificate together with a valid photo ID.
Printed copy of immunisation history statement together with a valid photo ID.
Medical exemption together with a valid photo ID.

Any passengers who experience any symptoms of COVID-19 prior to or on the day of travel, are not permitted to travel with us. Please contact us by replying to the email sent by Steamrail Victoria with your ticket details sent via TryBooking, to request a full refund of the ticket price* prior to travel.

In the event that our train is unable to operate due to COVID-19 restrictions, all passengers will be contacted via the email in which was provided at the time of your booking. Where an event can be rescheduled, tickets will be automatically transferred to the next available date. If you are unable to make the alternative date, please reply to our email within 7 days and a full refund of the ticket price* will be provided. Where an alternative date is unable to be provided, a full refund of the ticket price* will be provided by Steamrail Victoria within 7 days of the tour date.

* NOTE: Refer to our COVID-19 Policy for Full Terms and Conditions. All COVID-19 related refunds are of the ticket price only, this excludes TryBooking service fees as per their Terms and Conditions. Non COVID-19 related refund requests are per Steamrail's Terms and Conditions at located on the Steamrail Website.

Location

Flinders Street Railway Station
211 Flinders Street, Melbourne, Victoria 3000
Contact Details
Steamrail Victoria Inc. (03) 9397 1953 (Business Hours only) info@steamrail.com.au