​
Fostering curiosity,

wonder

and delight for our natural world.
Bike and Hike - Go Wild Go Solo - (10-14 yrs) (CANCELLED)
Join us for a bike and hike into the south-western wildlands of kunanyi/Mt Wellington for an expedition to one of Tasmania's most spectacular waterfalls.
We spend the day cycling through mixed forest along the Pipeline Track then walking in for lunch atop Wellington Falls. There's plenty of time for making new friends, challenging yourself and the option of some fun side-trips along the way.
Please note this activity requires previous bike riding experience and a safe and functioning bicycle. If your child is moderately active this is a very achievable activity and lots of fun.
The ride is approximately 7km each way with the journey back a very gentle downhill gradient.
The walk is approximately 2km each way.
What you'll need to bring:
Your own working bicycle, helmet and lock.
Weather-appropriate clothing including a wind/rain jacket.
Sturdy closed shoes (sneakers are fine), a small backpack, water bottle and lunch/snacks (it's a big day for most kids, healthy energy food is a MUST).

NOTE: Go Wild Go Solo are parent/guardian free activities - full supervision is provided
BOOKINGS ARE ESSENTIAL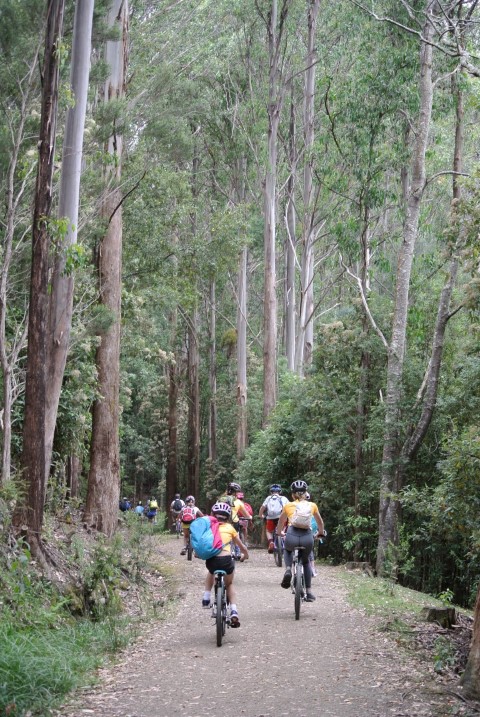 WHEN
WHERE
Pipeline Track (Meet at Neika Water Tank), Huon Rd, Neika
Cnr Huon and Morphetts Rd, Huon Rd
Neika
Please do not attend any activity if:
1. You or your children are unwell.
2. Have been in contact with someone who has tested positive to COVID.
3. Are awaiting a COVID test result.
4. Have been instructed to self-isolate.
For further enquiries, contact us
03 6238 2886
cityamenity@hobartcity.com.au

If you require assistance getting to the event please contact us on 03 6238 2886 or email bushadventures@hobartcity.com.au
​
​