Kym Warner with Meanwhile, Back at the Ranch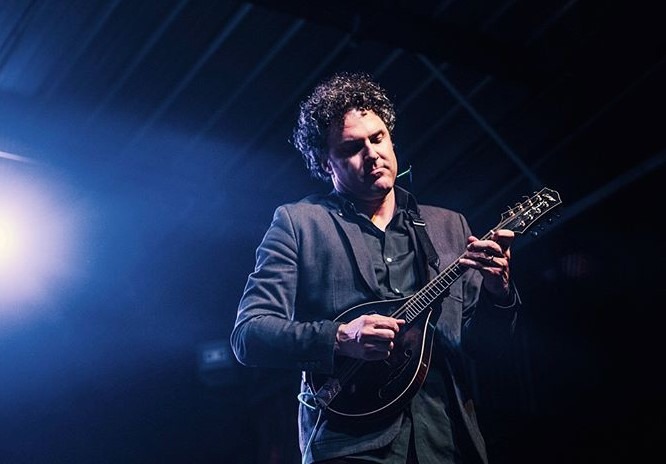 After spending the past 21 years performing and living in the U.S Kym Warner is coming back to Australia and will be doing one of his Aussie concerts at Trinity Sessions.
Born in Adelaide, South Australia, four-time Australian Mandolin Champion and multi-instrumentalist / vocalist Kym Warner began his musical journey touring the outback with The Brian Young Show in 1993. In 1995 Kym spent two semesters at South Plains College in Levelland, TX studying and performing American roots music. He spent the next 5 years touring Australia with Kasey Chambers, Lee Kernaghan, Beccy Cole, Gina Jeffreys, Darren Coggin, Adam Harvey and Tania Kernaghan before moving to the U.S in 2001.
A founding member of the progressive acoustic band The Greencards, Kym toured the US, Europe and Australia extensively for thirteen years, recorded six studio albums and received accolades such as Three GRAMMY nominations, a #1 Billboard Bluegrass Album, an Americana Award for 'Best New Artist' and a 31 date national tour with Bob Dylan and Willie Nelson.
In 2015, Kym released his debut solo album 'Everything That Brought Me Here', a full-instrumental album all composed and recorded by Kym with musical contributions by Tommy Emmanuel, Dan Dugmore, Jedd Hughes and Jeff Taylor to name a few. Soon after he joined Robert Earl Keen as a member of his touring and studio band. Kym composed and produced the theme music for 'Robert Earl Keen's' podcast 'Americana, The 51st State'.
Kym will perform solo and later be joined on stage with his support band – Meanwhile, Back At The Ranch. The band features Wilson Main on rhythm guitar, George Klironomos on lead guitar, Belinda Kendall-Smith on upright bass, Enrico Morena on drums and percussion, Ashley Turner on violin and Ted Keeley on vocals. The band describes their music as Cactus Swing! Its Hillbilly Jazz and Western Swing from 1930s to 50's with elements of New Orleans Jazz, traditional fiddle tunes, 30's swing and 20's blues hillbilly boogie.
Bar from 3pm. Doors to Concert Space 3.30pm. Tix $30
Location
Trinity Sessions
318 Goodwood Road, Clarence Park SA 5034
Contact Details