Covid Impacts on ABIC Contracts - ACA CPD on demand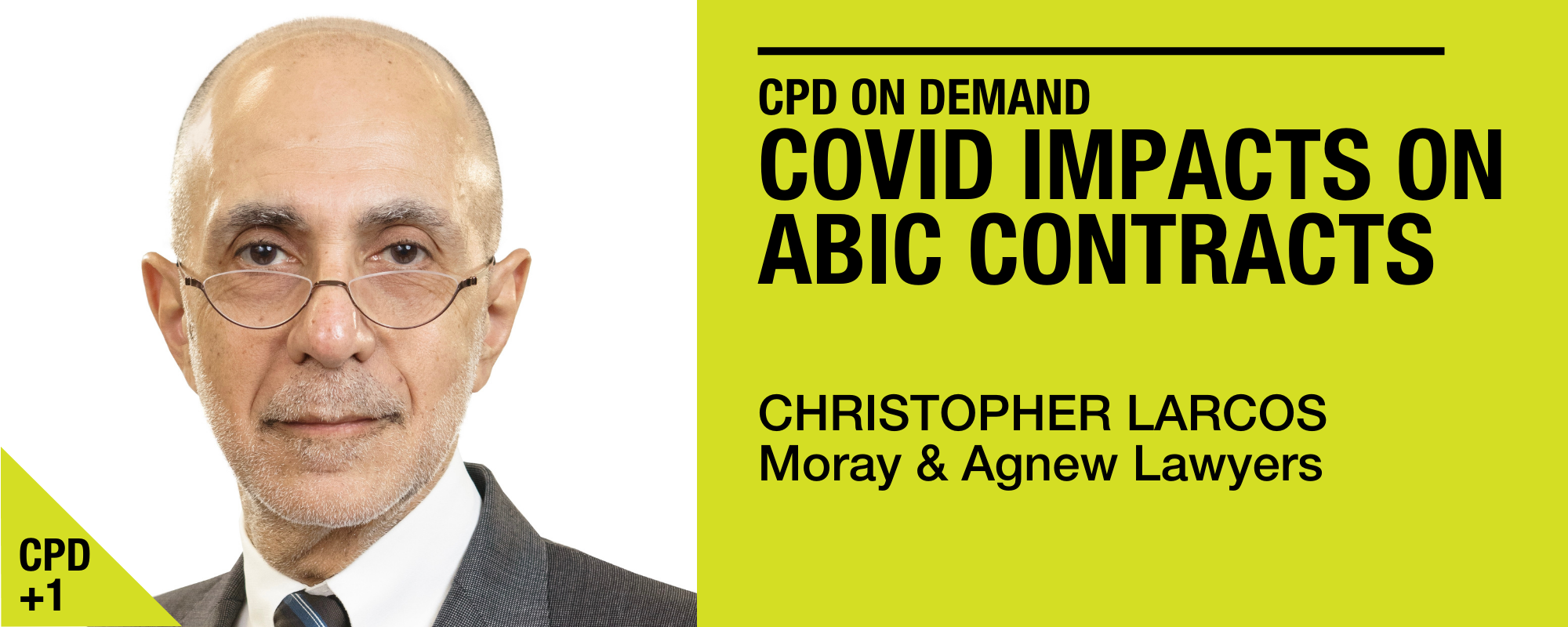 Join the ACA and Christopher Larcos from Moray & Agnew Lawyers to learn how COVID-19 has impacted ABIC contracts and their management, particularly COVID-related delays and material cost increases. Originally held 30 March 2022.
The pandemic has led to delays and disruptions on building sites, and to increased material costs. Unfortunately, the ABIC contract has no provisions dealing with these kinds of issues. In this webinar, Christopher Larcos will discuss who takes COVID risk in an ABIC contract and how the ACA Force Majeure special conditions operate to give relief to the parties to the ABIC contract. He will also discuss the advantages and disadvantages of introducing rise and fall special conditions to deal with increased material costs or, as an alternative, using the prime cost sum provisions already in the contract.
Our Speaker
Christopher Larcos is a Special Counsel at Moray & Agnew Lawyers. He advises contractors, developers, architects and other professionals on various tendering, contract, security of payment, contract administration, copyright, moral rights, and claims management issues.
He also prepares bespoke contracts, and amended ABIC and Australian Standard contracts, and has extensive PPP, D&C, EPC and EPCM experience. Christopher is registered as both an architect and a solicitor, with over 20 years' experience as a front-end projects lawyer and over 20 years' experience as an architect.
COST
Members $25
Non-members $40
*One ticket per attendee.
CPD
Vieing the complete 1 hour webinar including question time and completion of provided CPD questions will deliver 1 formal CPD point.
Learning outcomes – Following completion of this webinar, attendees will have a better understanding of the management Covid-related delays in an ABIC context and Force Majeure special conditions; and material cost increases in an ABIC context, with the case for special conditions and the use of provisional sum structures.
AACA Competencies: Practice Management and Professional Conduct PC9; Design Delivery and Construction Phase Services PC52, PC57, PC58
APBSA Core Area: Practice Management
Please keep your receipt, completed questions and certificate for your CPD records. A link will be provided to upload CPD answers and for issue of a CPD certificate of completion.
CONTACT
For more information, contact Katherine Ygosse webinars@aca.org.au 0413 520 548.