Celebrating 50 Years of Women at Tocal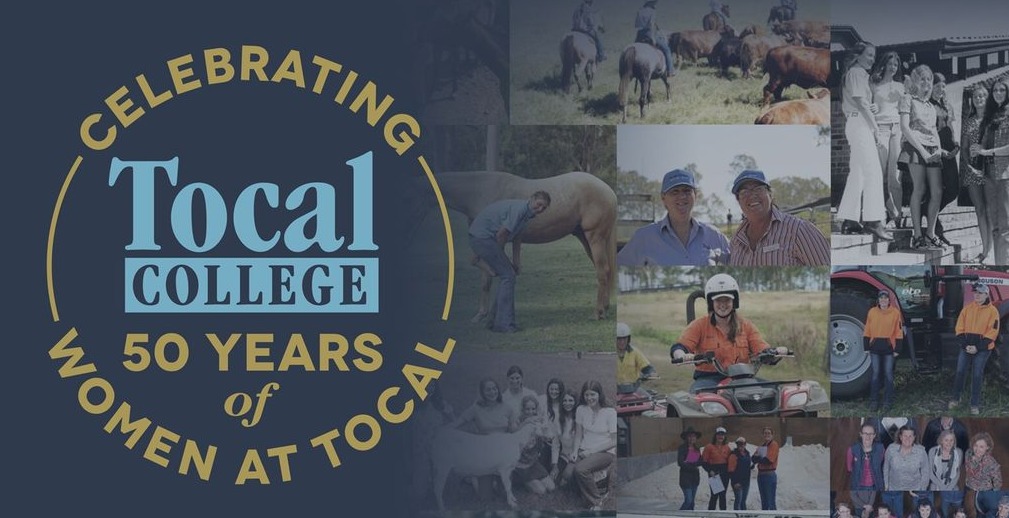 About
This year marks 50 years since Tocal welcomed its first intake of female students. We are marking this milestone event with a gathering at Tocal on the weekend 27 & 28 August.
Join us for a weekend of celebration to mark this special event. Reunite with ex-students and staff and enjoy a range of activities that are planned for the weekend.
Event Details
Date: Saturday 27 and Sunday 28 August, 2022
Time: Arrive after lunch on Saturday. Depart after breakfast on Sunday.
-
Afternoon tour 2pm - 4.30pm
Cost: Free
Afternoon activities including farm tours, entertainment and afternoon tea
Saturday evening dinner 6pm - 11pm
Cost: $90 per person for formal two course dinner
Dress Code: Cocktail
Draft program of events
6.00 pm Arrive at EA Hunt Hall, bar open
6.30 pm Evening commences
6.45 pm Dinner served
8.00 pm Guest speakers
8.30 pm Auction
The money raised from the auction will go towards student scholarships. Auction prizes will include:
Boydell's Wines
2 nights stay at The Barracks accommodation Tocal Homestead
2 nights stay at The Cove, Forster
Framed print of the sale poster/map for the Tocal property
Framed original oil painting of Tocal Homestead outbuildings
Several framed black and white Max Dupain photographs of the College
Tocal College Alumni vest and hat
Tocal gift box (breadboard, wine glasses, cooler bag etc)
A tin of 'Mission Brown' paint
We will also launch an Anniversary Appeal (200 years of the Tocal farm) to support restoration works of Thunderbolt's Cottage - one of the oldest buildings at the Homestead.

Sunday morning breakfast 9am - 11am
Cost: Free
Meet for BBQ breakfast provided by the Tocal students, coffee available to buy
Head home mid morning
For accommodation enquiries, phone 02 4939 8888
Final program of events and timings to be confirmed closer to the date
Dates
Saturday 27 August 2022 - Sunday 28 August 2022 (UTC+10)
Location
Get directions
Tocal Agricultural College
815 Tocal Road, Paterson NSW 2421