Parterre Hardanger Stitching Accessories Set Workshop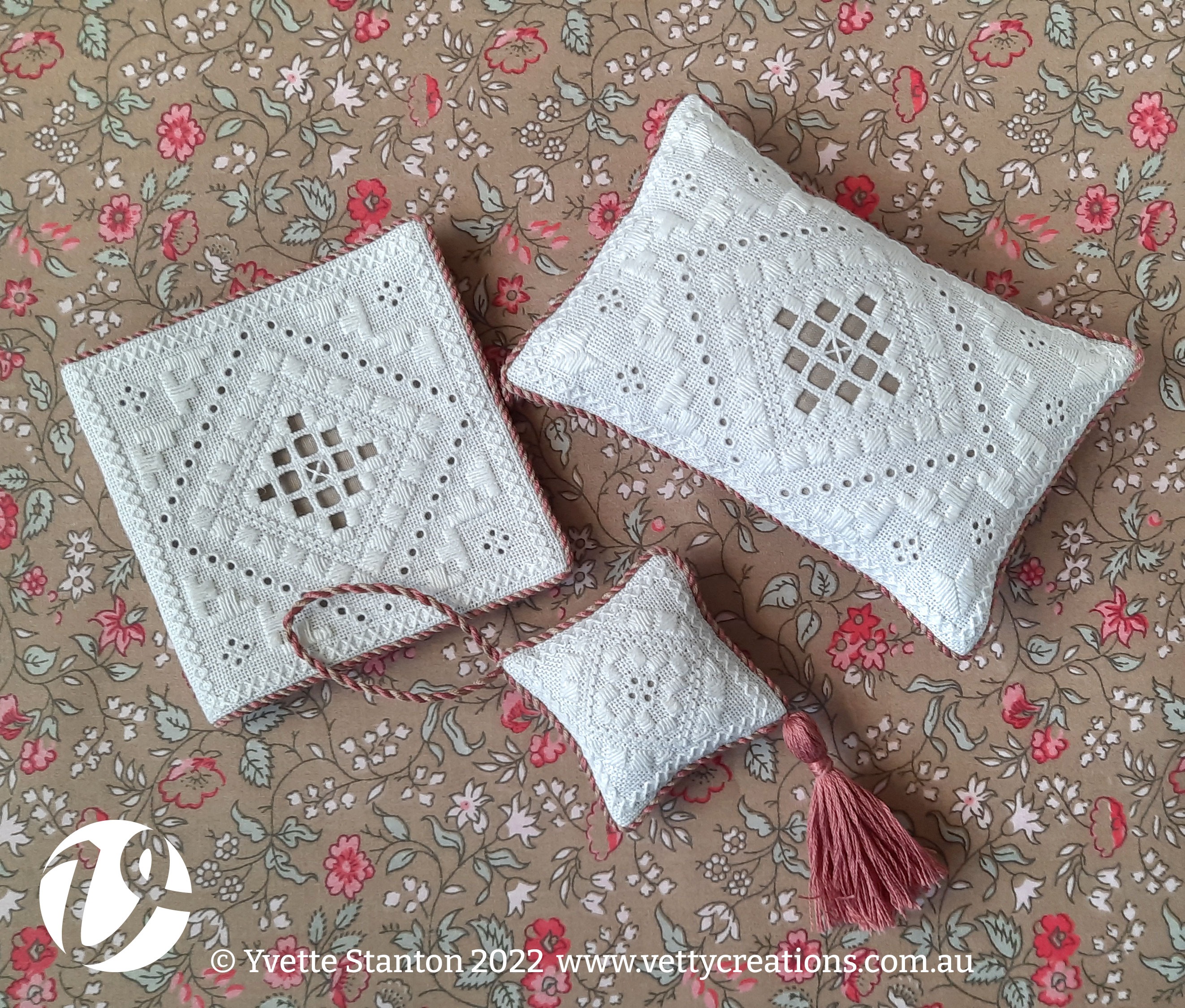 About
Learn to make a beautiful set of Hardanger stitching accessories with a needlebook, pincushion and scissor fob. We will be working on 28 count linen fabric, with traditional linen thread and traditional Hardanger stitches.

All skill levels are welcome!

2 day class. 9-4pm daily. Short morning tea break and 3/4 hour lunch break.
Included in the class cost are tuition, morning tea, supplies kit and access to videos showing how to construct the items.
Date
Saturday 27 August 2022 9:00 AM - Sunday 28 August 2022 4:00 PM (UTC+10)
Location
Get directions
Walcha Handmade
6N Derby Street, Walcha NSW 2354
Yvette Stanton is the author of ten instructional embroidery books, with most focusing on historical needlework, as well as two stitch dictionaries. She has written two well-regarded books on Hardanger embroidery: 'Early-Style Hardanger' and 'Elegant Hardanger Embroidery'.
Techniques you will learn in this class
This class is a counted thread class, meaning that the stitches are positioned by counting the threads of the fabric. It requires careful concentration. You will learn the following stitches: satin stitch, cable stitch, eyelets and clustered eyelets, laced cross stitch, needlewoven bars, twisted spokes filling stitch.
Workshop requirements
Your project kit (included in the cost of the workshop) will have 28 count linen fabric, Londonderry linen thread and needles required for the class. Stitch instructions and project instructions are also provided. Supplies for finishing the items into the needlebook, pincushion and scissor fob are included. While you will learn all the stitches in class, we will not be able to complete the embroidery or make up the items within the class time. For this reason, post-class access will be granted to online video finishing instructions.
A 20cm/8 inch hoop is optional for this class. If using one, we highly recommend a hoop on a stand (you can order these from Yvette for delivery to the class, if you don't have one), a hoop with a clamp for attaching to the table, or a hoop with a frame weight. If you need advice about any of this, please contact Yvette well before the class.
You will also need very sharp, finely-pointed embroidery scissors, and a pen or pencil for making notes may also be helpful. We highly recommend bringing magnification and lighting, as we will be working on 28 count linen. It is better to have it with you and not need it, than not have it and desperately need it!
Location
Walcha Handmade
6N Derby Street, Walcha NSW 2354
Walcha is a small, creative town, with wonderful attractions including the beautiful Apsley Falls, just 15 minutes drive from Walcha. https://walchansw.com.au/explore/
Accommodation in Walcha: There are a number of accommodation options including B&Bs, hotels, motels, guest house and caravan park. We recommend booking any accommodation as soon as possible, so that you don't miss out. Rural NSW has many visitors at the moment, and accommodation can be hard to book at times. https://walchansw.com.au/where-to-stay/
Getting to Walcha: https://walchansw.com.au/local-transport-services-in-walcha/
Our venue, Walcha Handmade, is a small creative co-operative, with quality gifts and souvenirs available. We will be holding our class in the studio at the back of the shop. The room is heated with a combustion stove in colder weather. Walcha can be very cold at times, so we recommend dressing warmly with layers so that you can be comfortable whether in class or outside.
Other classes currently scheduled
Frisian Whitework silk sampler workshop
Cancellation Policy
• Less than 7 days before event date – no refund
• More than 7 days prior to event 50% refund
Note: If the reason for your cancellation is covered under the terms of your insurance policy, you may be able to reclaim these charges. In these uncertain times, we recommend you have an appropriate travel insurance policy.
Classes require a great deal of planning, including the purchasing of kit requirements. We have financial commitments before a class and cannot absorb losses due to cancellations.
If we must cancel a class for any reason you will be offered a full refund or we will offer to move your payment to another Yvette Stanton class on offer in Walcha.
We do not accept responsibility for changes in the student's personal circumstances or work commitments. We cannot accept liability for travel costs, accommodation or materials purchased for a course which may have been cancelled.
Terms and Conditions
If you are not feeling well, please stay home. Please do not attend this workshop if you or a member of your household has cold/flu symptoms, or are isolating following a positive COVID test. In the workshop, we will be following all current COVID restrictions and regulations.
Course notes and class projects are copyright. They must not be reproduced in any form. Reusing any class materials for your own business or classes is strictly prohibited.
Phones must be turned off or set to silent during a class. Out of respect for the teacher and other students, we strongly request that students do not take phone calls during class.
We strongly recommend bringing your own magnification and lighting. It is better to have it and not need it, that not have it and need it. Students are not able to gain full value from a class if they can't see properly to do the work, and that's disappointing!
If you have ANY questions, please contact Yvette Stanton.