The LuWOW presents the Zombie Canni-Ball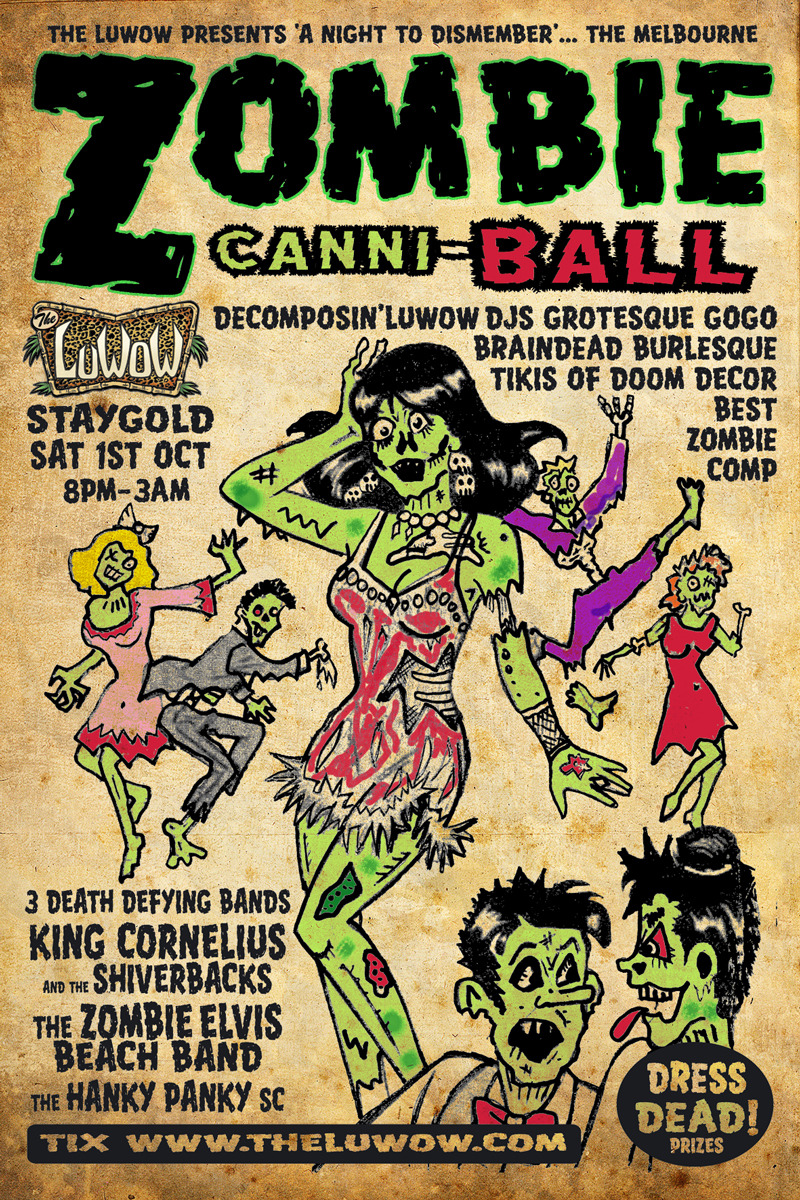 TICKETS ON SALE ON THE DOOR $25
About
TICKETS AVAILABLE ON THE DOOR $25

Fellow living dead.You are corpseily invited to the great Zombie Canni-Ball.
The annual Zombie Jamboree at this haunted Tiki temple of doom.
The LuWOW transforms 'Stay Gold' in Brunswick for one night only for another one of it's infamous pop-up parties.

Featuring 3 brainless bands:
KING CORNELIUS & THE SILVERBACKS (WA)
ZOMBIE ELVIS BEACH BAND
HANKY PANKY SC
Plus
Gruesome Gogo Goddesses
And all the usual crazy monster fun synonomous with The LuWOW

Decomposing DJs for the night are....
BOOBOO MUCK (2SER Sydney )
FRANK COTTERELL (NSW)
BARBARA BLAZE (The LuWOW)
playing Screamin Soul, Gruesome Garage punk, Braindead Boogaloo, Grindin' rhythm 'n' blues

Bring your zombie friends and fellow brain gobblers to
+ join in the feastivities
+ shuffle to bongo beats
+ revel in the LuWOW tiki temple of doom decor
+ gasp at the braindead burlesque

Dress up Dead for the best Zombie Competition with putrid prizes!
Date
Saturday 1 October 2022 8:00 PM - Sunday 2 October 2022 3:00 AM (UTC+11)
Location
Get directions
Stay Gold
133 Sydney Rd, Brunswick Victoria 3056