Banyule/Darebin: Urban Cycling Confidence: Oct 2023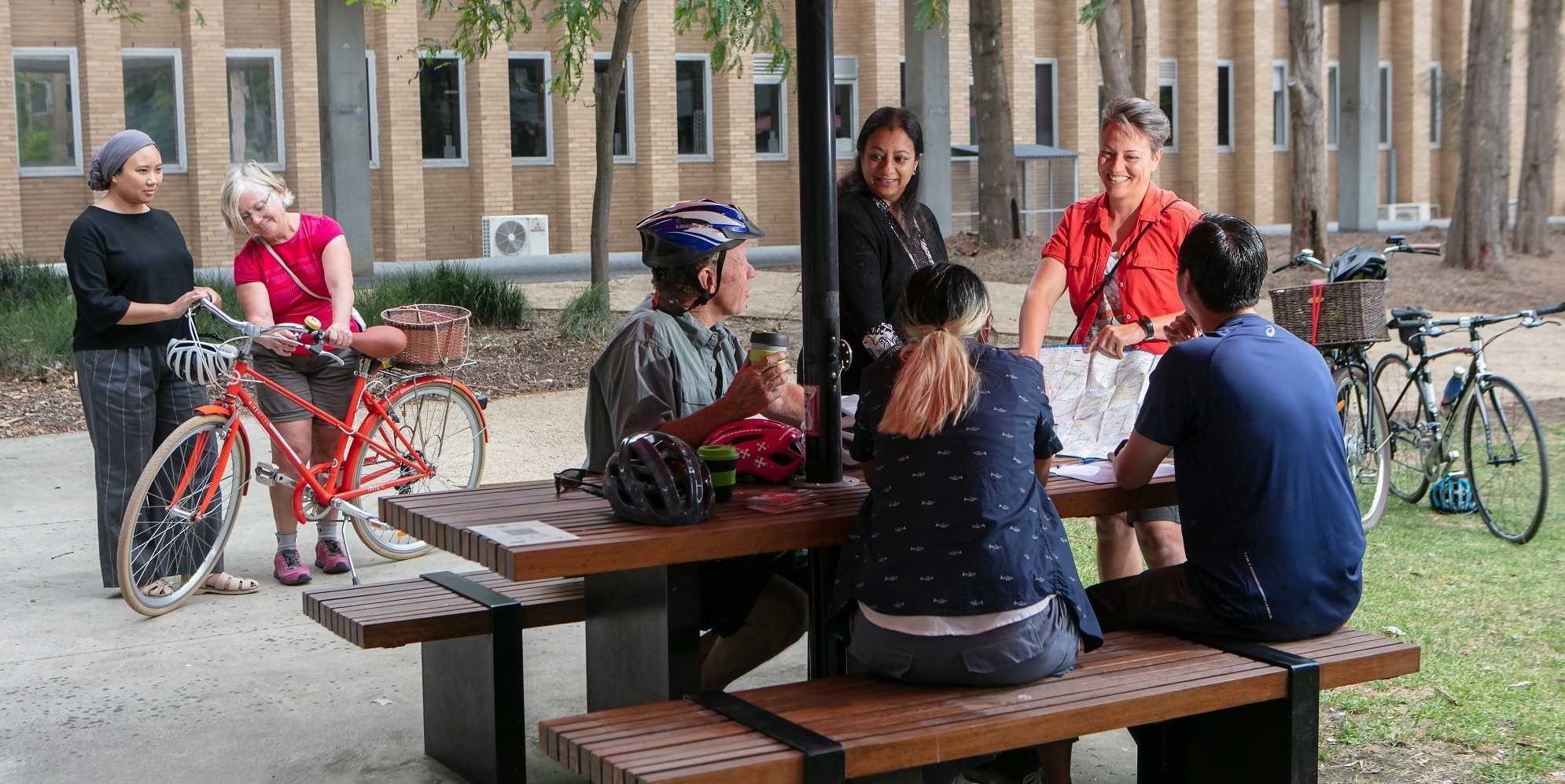 This 4.5 hour Urban Cycling Confidence course is for adults who can ride confidently on shared paths and wish to start riding on the road.
You will develop your bike riding skills and knowledge to ride on roads with confidence, and enable you to use your bike for sustainable transport to work, visit friends, for shopping, fitness and recreation. Includes an on-road riding component in light traffic.
This course is a collaboration between City of Banyule and City of Darebin, and delivered by the professionals from Bike it Better.
Dates & Times:
Saturday 23rd March 2024 -
Part 1 Traffic-free Skills 10am-12:30pm
Break for lunch (not supplied) 12.30pm-1pm
Part 2 On-road ride (optional) 1pm-3pm
Location: La Trobe University tennis courts, Bundoora
Fee: $25 general; $15 concession
Please note that these events are often in high demand, so please let us know if you can no longer attend so that someone else may be able to take your place.
Who is this session suitable for?
Adults who are comfortable riding their bike on shared paths and wish to start building their confidence to ride on the road for transport and recreation

Suitable for all types of human-powered bicycles, including folding bikes and e-bikes

Participants MUST be residents of Banyule or Darebin. Ticket sales will open to residents of other municipalities one week before the session date if the event is not already sold out.
Session inclusions:
How to do a safety check on your bike and equipment

Check that your bike is correctly fitted and adjusted for you

Basic bike control skills such as braking, cornering, straight line riding, using gears, and stopping in an emergency

Essential on-road techniques such as signalling, scanning, and using eye contact

Traffic skills such as positioning on the road, merging into traffic lanes

Discussion about riding around town confidently such as using shared paths and bike lanes, how to avoid dooring, negotiating tram tracks and other obstacles, road rules for bicycles, and how to plan your route to avoid dangers

Followed by short on-road ride in light traffic (optional), including stops to discuss scenarios such as roundabouts, stop signs, other intersections, hook turns, bike lanes, and tram/train lines (where available)

Lots of time for questions and answers.
How many other participants will be in the group?
The group size is limited to 8 participants.
What should I bring?
A bicycle of suitable size and type, in good condition with working brakes, a bell and pumped up tyres. If you are unsure, please email bikeitbettercyclecoaching@gmail.com prior to booking.
Australian Standards Approved helmet in good condition
Runners or similar closed-toe footwear
Sun/weather protection
A bottle of water
Snacks, lunch (or there are cafes/shops nearby)
Any medication
Suitable clothing for the conditions
What is the start/finish time?
The program will take place between 10:00am-3:00pm (with a 30min lunch break at around 12:30pm). Please arrive at least 10 minutes early to sign in and prepare your bike.
Where should I come for the training?
Saturday 23rd March 2024: La Trobe University tennis courts, Bundoora.
You will be sent a reminder email with these details and a map of the meeting location a few days before the session.
I'm feeling anxious about the on-road component. Should I still attend this workshop?
Yes! The second part of the session (the on-road ride) is optional.
You may find that after completing the traffic-free skills component in the morning, you will have the confidence to stay and complete the on-road ride with us. Rest assured you will be well-supported in the group, with two instructors. However, you are free to choose to leave after the traffic-free skills component if you are still feeling anxious about completing the on-road ride, feel too tired to continue, or have other commitments in the afternoon.
What if the weather isn't great?
In the event of very hot (over 35 degrees), wet, or very windy (>35km/hr) weather the lesson may be postponed at the instructor's discretion and you will be notified by telephone.
Do I have to bring my printed ticket?
You don't need to bring your ticket on the day. We will have a list of registered participants.
What is the refund policy?
No refunds or credit will be given for late cancellations, no-shows or if you are unable to participate due to unsafe bike, equipment or attire.
Note re COVID Safety
Stay at home if unwell or if you are a contact of someone who has been unwell and who is being tested for coronavirus (COVID-19) infection.
All attendees must comply with the current Victorian Government COVID restrictions.
Who do I contact if I have any questions?
Cazz Clarke, Cycling Instructor (Bike it Better) on 0421 114 389 or bikeitbettercyclecoaching@gmail.com
or
Tristan Jessup, Transport Planner (Banyule City Council) on (03) 9457 9899 or activetravel@banyule.vic.gov.au
or
Kira Whittaker, Sustainable Transport team (Darebin City Council) on (03) 8470 8578 or darebinlovesbikes@darebin.vic.gov.au
PRIVACY
Bike it Better collects, holds and manages personal information under the Privacy and Data Protection Act 2014 (Vic) ("PDP Act"). Your personal details are collected so that we can contact you and to ensure you can safely participate in the workshop.
We will share this information with Banyule City Council and Darebin City Council in order to send you follow up surveys about the workshop and information other bike riding resources provided by your local Council and to evaluate the success of these workshops. You can choose not to receive ongoing emails from your Council. We may provide personal information to its agents, such as its accountants or lawyers. At times, we may be legally required to disclose personal information, for instance to the police or courts.
Darebin City Council's collection notice is available to view here.
​​​​​
Location
La Trobe University tennis courts, Bundoora

Check out our other upcoming cycling classes: