Find an event and buy tickets
SEARCH TIP
Choose a unique keyword associated with your event and avoid generic terms like Sydney, School or basketball.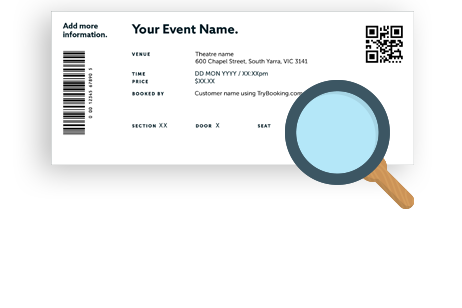 Find and print your tickets
If you have purchased tickets but can't find them. You will find them attached to the confirmation email that was sent when you completed your order. Search TryBooking in your email inbox to find the email. If you can't find your tickets click the button below to re-send them to your inbox.
Need more help
The event organiser is the best person to contact if you have questions about the event, tickets, session times and refunds. The event organiser details can be found on the event homepage or in your ticket confirmation email.
Our support staff is available if you are unable to find the event you are looking for or you are having technical difficulties.
What our customers are saying
"We've found the service and support fantastic! Our patrons asked us for online bookings and in our investigations, TryBooking came up as a good convenient option."
Maureen Hartley, Publicist / Education Coordinator
La Mama Theatre
"I had a very positive experience with TryBooking. The system was easy to use and I had all the information available when I needed it. We have already set up our next event!"
Mark Matthews
Sydney Theatre School
"TryBooking worked really well for Diamonds Are A Girl's Best Friend and was probably the most important event to have with TryBooking due to its size and popularity. As a not-for-profit, TryBooking's pricing structure is a win-win for us as it doesn't cost us and our guests are happy to pay a booking fee comfortable in the knowledge that it gets donated back."
Janey Rainey - Events Manager
Challenge
"We decided to go online to update and extend our ticketing options. TryBooking made this transition smooth, simple and user friendly. The pre-festival and backup service was sensational."
Ian Wood
Port Fairy Folk Festival
Previous
Next
It is simple to host your own event