Mar 17, 2020 · 2 min read
How to live stream your event?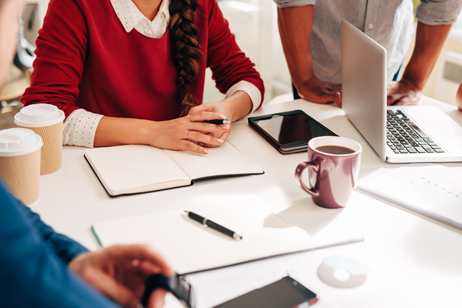 So, we hear you're going online?  
That's great news! Let TryBooking help take the stress and uncertainty out of going online for the first time with our tried and tested tips and tricks of how to successfully create and execute online events.  
Whether you're a comedian who can provide people with a much-needed laugh, an actor with a show that must go on or a talented person with a skill to share - why not live-stream an event, workshop or seminar? 
Unsure of where to even begin? Let's start at the very start.  
    1. What is an online event?
An online event can be anything from live-streamed yoga classes to virtual conferences. The sky is really the limit when it comes to creating online events with TryBooking. You name it, we've probably had it. Our friendly Client Success team is always here to talk through any wacky and wonderful events, in fact they encourage it!  


    2. Who is your audience and how will you reach them?  
This is something that can sometimes be easily missed or overlooked in the initial brainstorm of an event. Are your audience tech savvy millennials who are never seen without their phone? Or is your audience an older crowd who haven't grown up with such technology as YouTube or Facebook? You want to ensure that you have your audience in the forefront of your mind when deciding how they will best be reached and how they will access your online event.  
 
    3. Which live-stream platform is best for your event?  
Now that you've now got your audience in mind, which live-streaming platform is going to be the easiest for them to access? Things to keep in mind are – some live-stream providers charge and others offer free live-streaming. Is it important when doing your research that you have your audience in mind.  
Free live-streaming providers include YouTube and Facebook.  
Other paid providers include Zoom, Google Hangouts, GoToMeeting and many more.  
 
    4. The who, what and where?  
The three W's we love here at TryBooking! Please see below for things to consider.  
Who: will host your online event, will it be you? Maybe you'd prefer to have a keynote speaker or guest presenter. Who will be most engaging and interesting presenter for your audience?  
What: is it that you're actually presenting? Is it exciting and engaging? We recommend creating both a run sheet and script to ensure that all content is engaging for those viewing at home  
Where: will you record your live-stream? This is a very important point, will you stream at home, the local hall or from your studio? Remembering any outside noises could affect your live-stream. Is your studio on busy road with lots of traffic? This could be picked up on your recording device when streaming your class or workshop and important points could be missed. We always suggest doing a test run by recording yourself in the space that you plan to host your online event from, this will mean there's no nasty surprise noises or interruptions come event day.  
 
     5. How big is your audience?  
Live-stream platform chosen you're almost ready to create your online event with us! How many virtual attendees do you imagine viewing or attending your virtual event? Here at TryBooking we're big believers in aiming high and are here to help you to reach your online event ticketing goals.  
 
     6. How will you share your live-stream link?  
TryBooking gives you the ability to sell tickets to your online events, allowing you to input the link to your event and share it with attendees on your event homepage and through emails.

Display the link publicly on event homepage 
Instead of having a physical address the livestream direct link for your online event will appear under location on your event homepage. Meaning this link is available to anyone that has access to your event is able to see the livestream link. To set this up, tick the Display this link publicly on the event homepage checkbox when creating your event.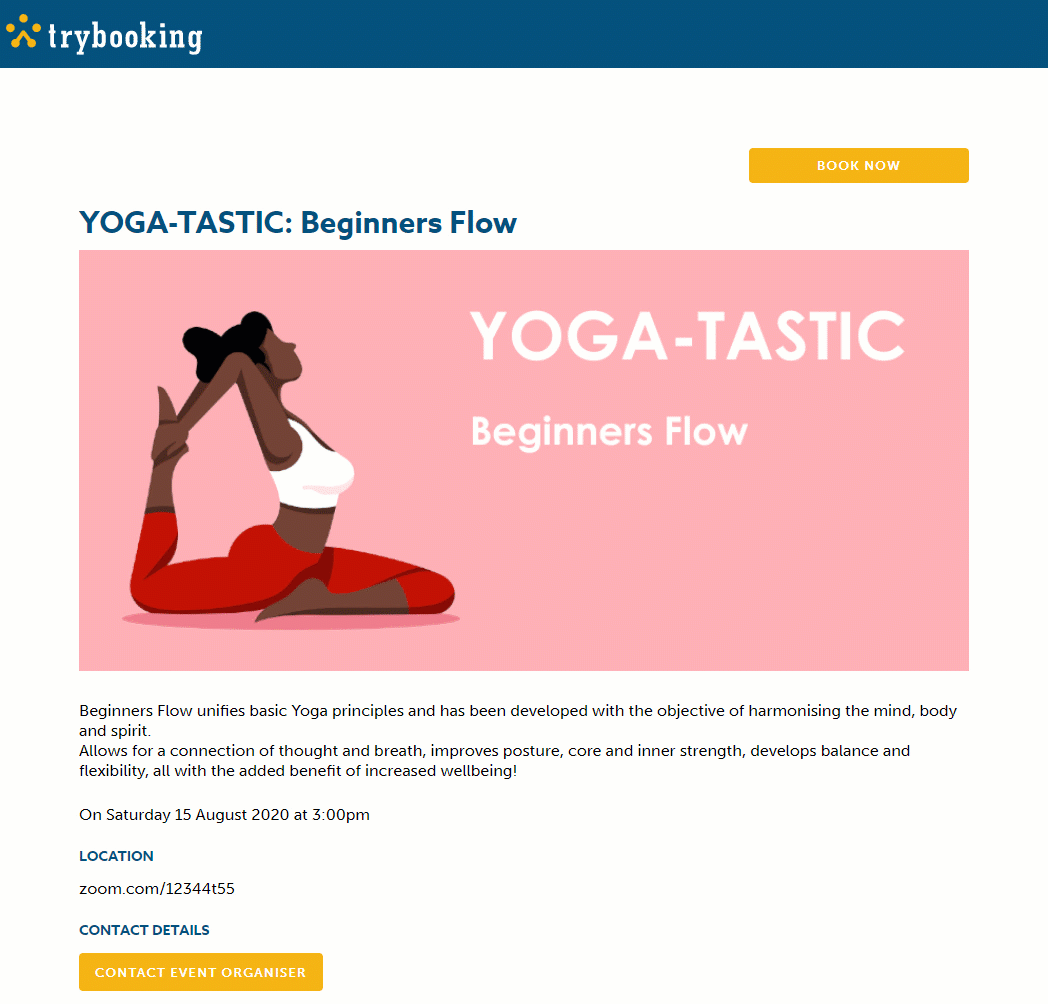 Display link in order confirmation 
To send the event link to attendees automatically post-purchase, alongside their receipt, you can add the link to your event on the order confirmation email the attendees receive. This option is perfect if you don't need to add any additional information. 
To set this up, tick the Display the link in the order confirmation checkbox when creating your event, or at a later time via Venue on the side menu under Basic Information.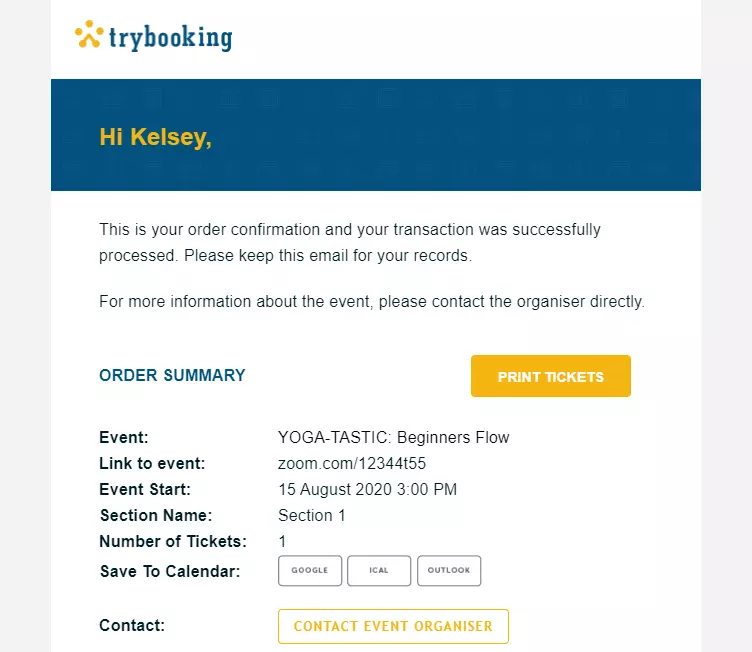 Send e-tickets for this event 
When creating an online event, you now have the option to select whether you wish to send your attendees an e-ticket. With most online events customers don't require an e-ticket. Should you wish to not provide your attendees with an e-ticket to the event, leave the Send e-tickets for this event checkbox unticked.  
 
     7. It's time to create your Online Event with TryBooking 
We are thrilled that you have chosen TryBooking to help share your online event! Whether you're new to TryBooking or have been with us for years our team has worked very hard to make this a simple and stress-free process. It is as simple as ever to create an online event. Please see how to create an online event on our Learning Centre for step by step instructions. 

      8. Congratulations, your event is up and ready to go!  
You've put in the hard work planning and preparing your online event; it is now time to sell tickets and get the word out there!  
 
      9. How will you promote your event?  
It's time to shout from the rooftops! Disclaimer: this isn't something that we actually suggest, but it's time to promote your event and get word out there. Does your audience follow you on social media, will an ad in the local paper help promote your event to your audience? Promotion is key to reaching your audience and selling tickets.  
 
     10. Promote your event on your website with our event Widgets  
Widgets are the easiest way to link your TryBooking event to your website. Widgets can boost your event's visibility, as well as encourage customers to make ticket purchases and bookings whenever they visit your website.  You can use widgets to display different kinds of information about your event. For further information on Widgets please see our Learning Centre.  
 
     11. Test Run streaming or recording your event  
Practice makes perfect, as they say in the classics. Before going live to your ticket holders why not have a run through of your online event. This can be good for ensuring that your event doesn't run over time.  
Tip: why not have a colleague or friend sit in on your run through and ask for honest feedback: is what you are presenting what you've promised your audience? Was it delivered in a fun and engaging way? Now is the perfect time to polish your script and make any changes before the big day!  
     12. Lights, Camera, Action. 
Event day is here! You've practiced and practiced, your equipment all works and you've found the perfect place to livestream from. You are set and ready to go. Your audience is ready and eager to hear what you have to present, break a leg.
You're now an online event pro, see we told you it was easy!  
As always the friendly TryBooking client success team are only ever a call or email away. Please don't hesitate to contact our team should you have any questions or require any assistance.  
Events made easy
The TryBooking Team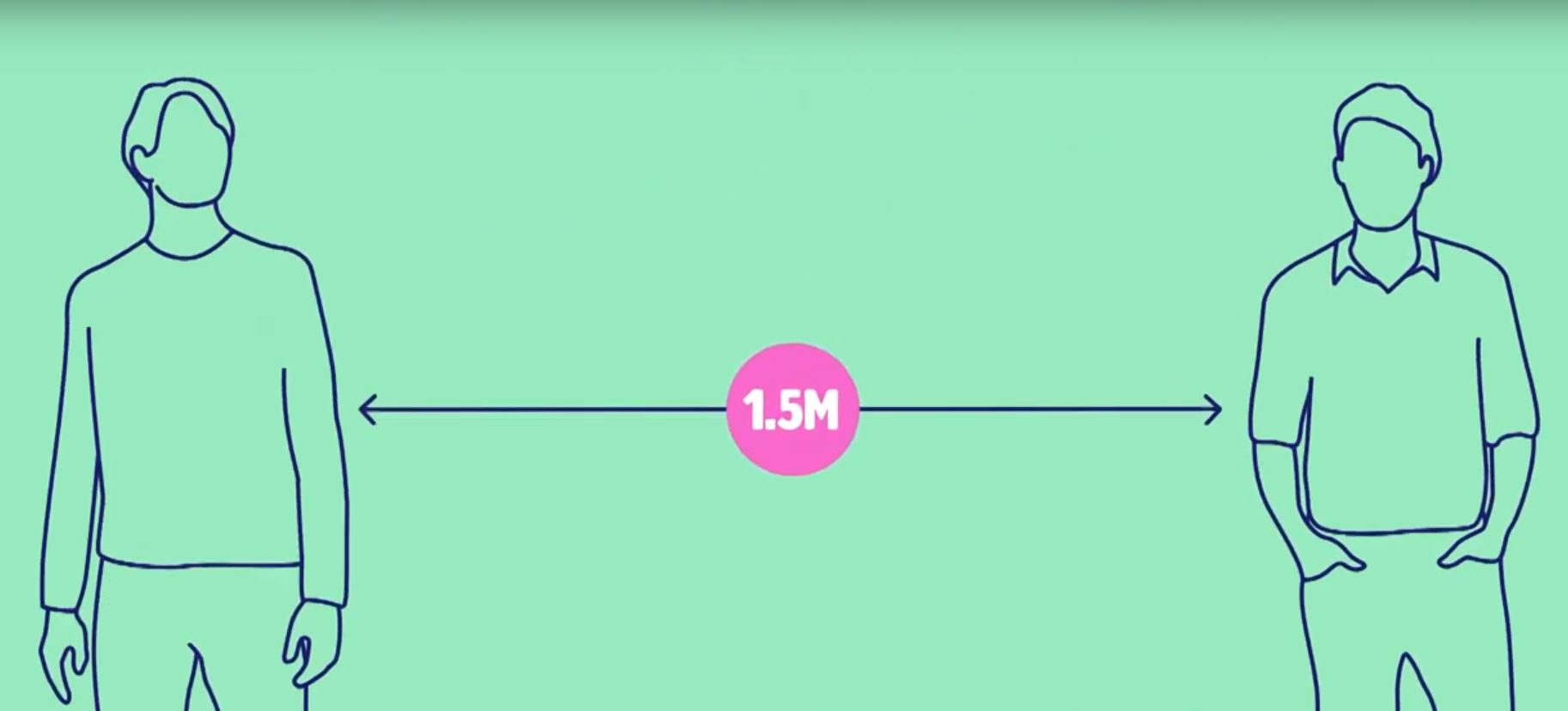 How to work with Covid-19 event restrictions
Jun 26, 2020 · 1 min read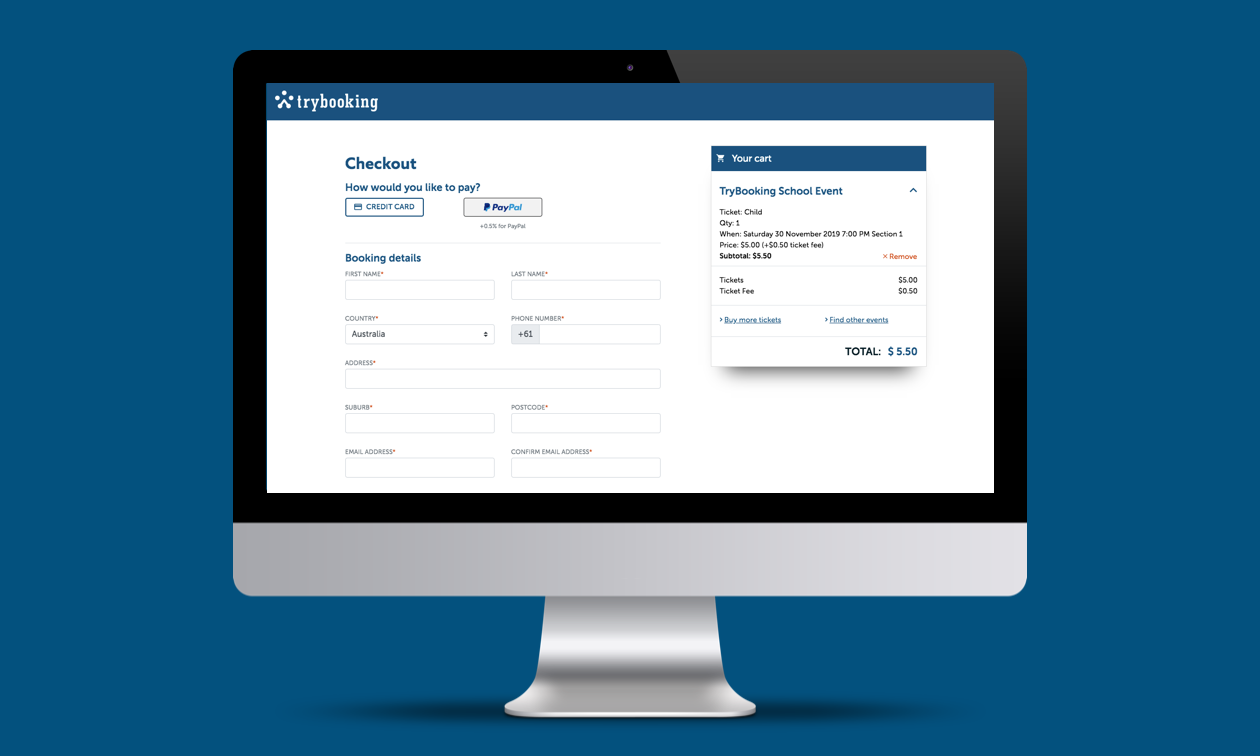 Use PayPal as one of your payment options
Oct 22, 2019 · 1 min read