Benefits of processing payments through Stripe

Easily accept all major card brands

Fight fraud with sophisticated security

Automatically track tickets and payments
Which option is right for you?

Payments handled by TryBooking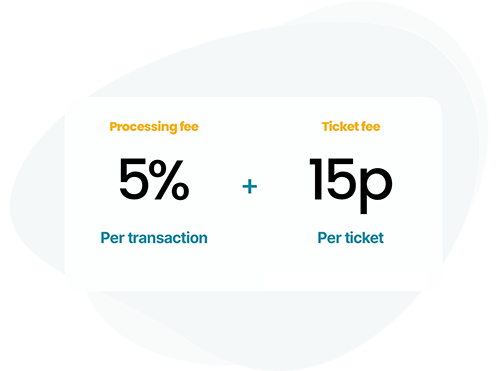 Payments handled by Stripe

Compare our payment processing options
Real time transactions to your balance
Manage refunds with TryBooking
We manage your chargebacks on your behalf
Request payout at any time
Funds paid on an agreed schedule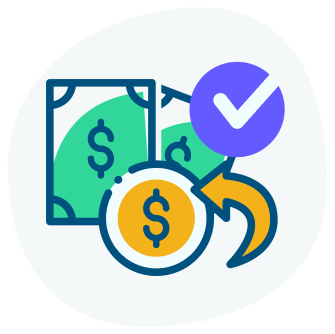 With pay-as-you-go pricing, you only pay Stripe fees when you take payments. Stripe also offers volume pricing on request.
Steps To Process With Stripe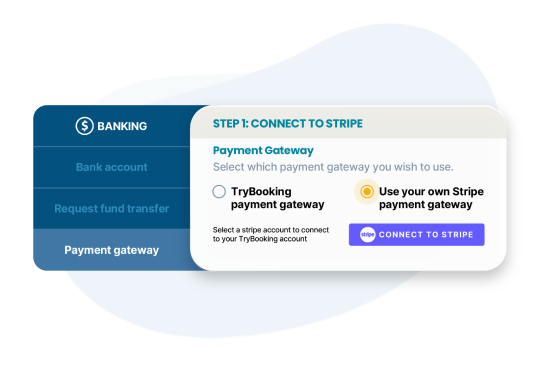 Step 1 -

Connect TryBooking With Stripe

Get started by heading to your Account Dashboard > Banking > Payment Gateway within the TryBooking portal. Select Use Your Own Stripe Payment Gateway and click Connect To Stripe.

When a popup appears "You will be unable to take payments through TryBooking until your Stripe account is connected", click OK. You'll then be redirected to Stripe.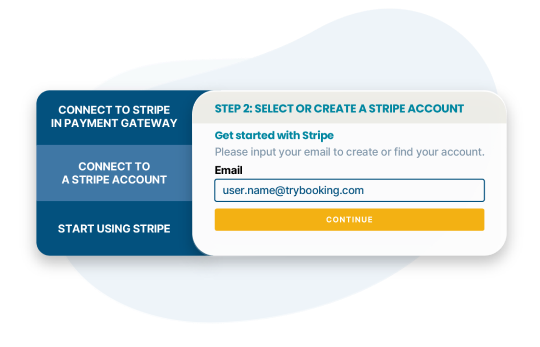 Step 2 -

Get Started With Stripe

Once in Stripe, you will be asked to input your email, once done click Continue.

Choose which account you wish to connect to TryBooking or create a Stripe Account to connect.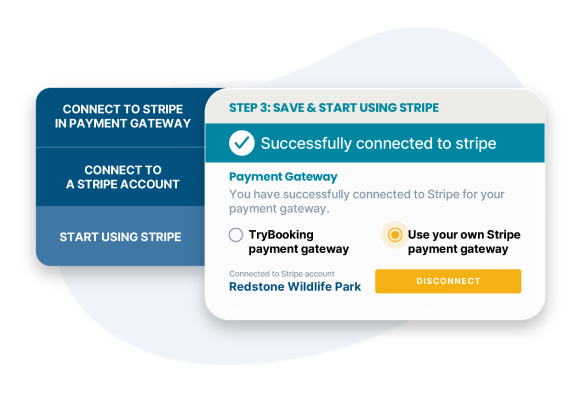 Step 3 -

Save and Start Using Stripe Payments

After connecting through Stripe, the payment gateway is now live. You can now run several different payment methods and receive payments straight to your Stripe account.

To learn more, check out our Learning Centre article.
Connect Now

Ready to get started?
Join thousands of event organisers already using TryBooking by creating a free account today.
Still not convinced? BOOK A DEMO
Low, transparent fees for paid events

Totally free for free events

No hidden fees or charges

Exceptional customer support

Privacy focused event ticketing
Frequently Asked Questions
What fees does Stripe or TryBooking charge?
There's no cost to get started with TryBooking, and we're totally free for free events.
For paid events, you can choose to use our payment gateway, or link to your Stripe account.
Payments processed by Stripe
75p ticket fee
Stripe fees: currently 1.5% + 20p for standard cards (as of 1st April 2023)
As an Event Organiser, you can choose whether to absorb the ticket fee or pass it on to your ticket purchasers. You can't pass the Stripe fees on.
Payments processed by TryBooking
5% processing fee (charged to the event organiser by default)
15p ticket fee (charged to the ticket purchaser by default)
As an Event Organiser, you have total control over who pays which fees - so you can choose whether to pass them on to your ticket purchaser, or absorb them fully.
Is TryBooking a Stripe Partner for event ticketing?
Yes, TryBooking is an official Stripe Verified Partner for event ticketing.
This means you can easily integrate your existing Stripe account with TryBooking, allowing you to receive and manage your ticket sales in your existing setup.
What does Stripe do?
Stripe is a payment service provider that event organisers and business owners can use to accept multiple payment methods. TryBooking has integrated Stripe to your event payment gateway, allowing you to use Stripe for your ticket sales - linking your Stripe account to your TryBooking account.
Can I sell tickets on Stripe?
You can't sell tickets on Stripe, but you can sell tickets to your event through TryBooking and link it to your Stripe account. This integration allows you to use more payment methods and manage your event ticket sales payouts through Stripe.
Are there any hidden ticketing fees?
No.
We only charge fees when a paid transaction is processed through your event - and give you the choice as to whether they are paid by yourself as the Event Organiser or by the ticket purchaser.
Is TryBooking secure?
TryBooking is fully compliant with all information security protocols to ensure the safety of all data stored on our platform.
All data stored on our systems is encrypted using industry standard encryption algorithms, and we are fully compliant with PCI security protocols for the storage of payment data. We never store your full credit card information - only storing the last 4 digits to show you which card has been used to make the booking.
We take all reasonable measures to ensure your data is secure. All our data is hosted securely in the United Kingdom. We have several layers of security to prevent against attack, including multi-factor authentication, the use of secure website connections on all pages and firewalls protecting against unauthorised traffic.
Can I charge an additional fee on top of my ticket price?
No, it is not possible to charge additional fees on top of the ticket price.
How do I pay your fees?
There's no need to worry about any invoices - any fees you choose to pay as an event organiser are automatically deducted before the funds are added to your balance.