We know that setting up ticketing is just one of many things on your to-do list as an event organiser. At TryBooking, our focus is to give you all the tools you need to create your event - whilst keeping things affordable with our transparent low fees.

Whether you're looking for someone to speak to at the end of the phone, or are just tired of paying high fees - these are just some of the reasons that event organisers are choosing TryBooking over Ticketsource.


With low fees, a powerful platform and exceptional service, we're here to support you with your event.
Here's why event organisers choose TryBooking
Easy to get started
It takes just a few minutes to create your event with our simple setup process - including multiple ticket types and session dates.
Transparent low fees
Running an event shouldn't break the bank. That's why our fees are low and transparent - with payment processing and VAT included.
Privacy is our priority
Unlike other platforms, we don't require your ticket buyers to create an account. You are in full control of your data - we never market to your guests.
Exceptional customer support
Sometimes, you just need to speak to a real person. That's why we have a friendly UK based team of event experts here to help - all at no extra cost.
Simple, transparent pricing.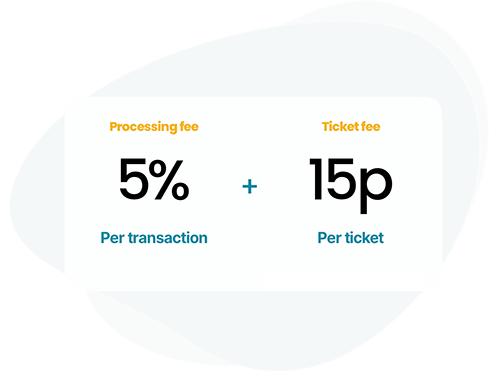 Our low cost pay-as-you-go pricing means you only pay once you've sold paid tickets for your event.

There's no pricing tiers, no upfront costs, hidden fees or lock-in contracts in sight - just simple event ticketing.

Running free events? You can use TryBooking for free!
See how TryBooking compares to Ticketsource
Our simple low fees, exceptional customer service and no charge for additional features make TryBooking the platform of choice for thousands of event organisers.
Ability to pass on fees to ticket purchasers
Extra revenue from gift certificates
Full integration with Xero accounting software

£16.80
for 20x £10 tickets
Based on standard fees as of 15th February 2023.

£13.00
for 20x £10 tickets
Fees include payment processing and VAT
How much can you save?
How much are you charging per ticket?
£100
How many tickets will you sell?
10
Fees correct as of 15th February 2023.
Fees correct as of 15th February 2023.
Have a Stripe account?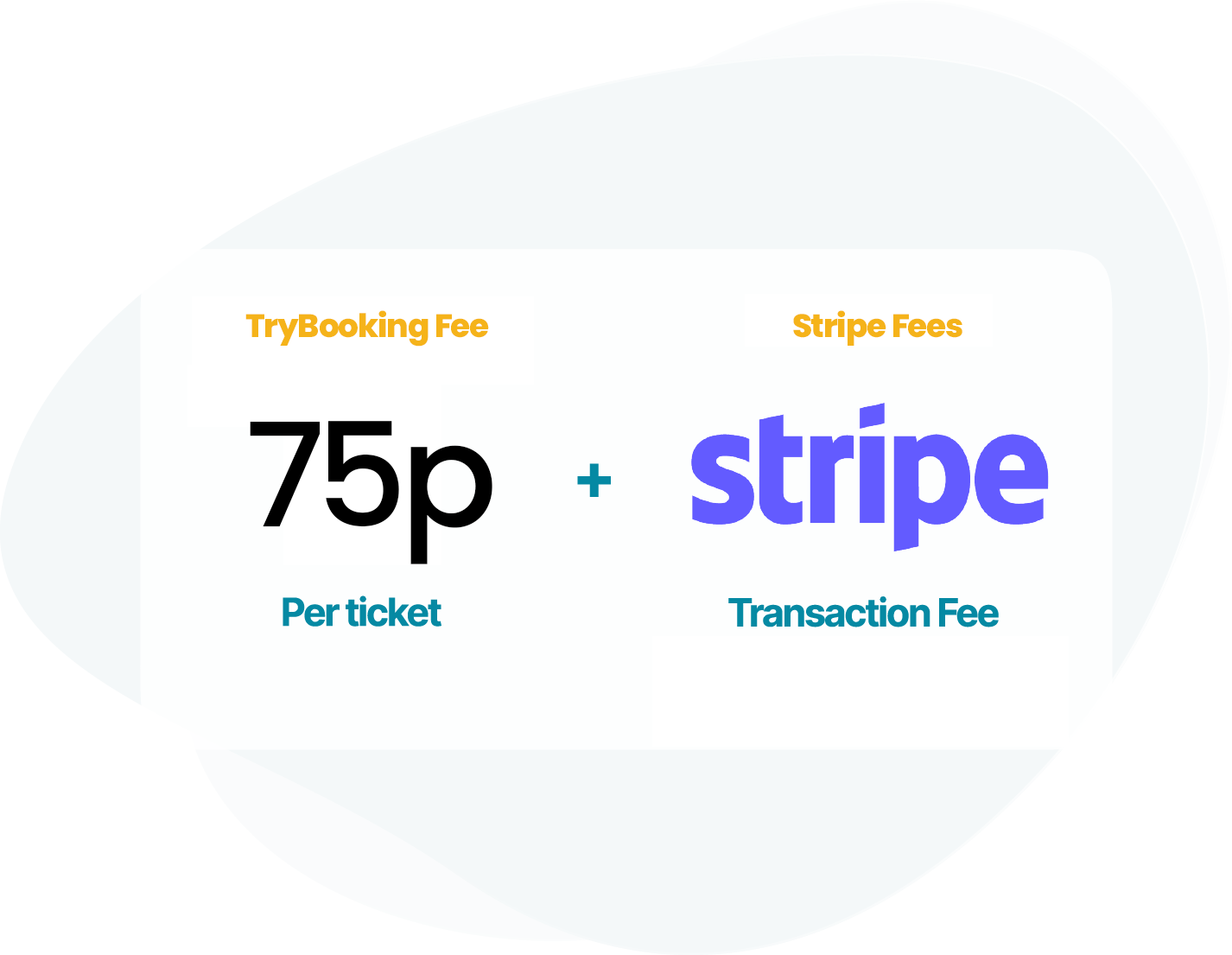 You can also choose to accept ticket payments via your Stripe Connect account, allowing you to receive payments directly.
Loads of features. Simple to use.
We make every feature available to all our event organisers - even for free events. Take a look at some...
Create custom seating plans at no extra cost.
Set up as many tickets as you need for your event.
Send follow up emails and important updates.
Custom data collection forms
Collect all the data you need during booking.
Let your ticket purchasers buy on your website.
Access all your data with 40 real time reports.
Access for all team members
Keep secure with individual logins for teams.
Don't just take our word for it...
We've already supported thousands of event organisers - here's what some of them have to say about TryBooking.
"Greenlands Farm Village have found Trybooking to have excellent customer service and are always happy to help on the other end of the phone. Their systems are really easy to use, and it works well for our customers."

"We're delighted with the quality of customer service from TryBooking. We have saved time and money by using this platform to sell tickets for our events – and the team are always on hand with ideas and tips to help events run smoothly."

"Great and accessible solution to event bookings. The staff team are responsive and share their expertise to maximise how businesses can best use the platform for their specific purposes."

"TryBooking is a fantastic platform; we use it for all our Alumni events. The fact we can integrate the events into our own website is really useful. The team are really helpful - it's brilliant to be able to speak to someone. We can't fault the customer service."

"Really loving TryBooking. Very easy to use and the support staff have been so attentive and helpful with any questions I have. A total breath of fresh air! Events are easy to set up and integrate into the website. Really impressed."

Ready to get started?
Join thousands of event organisers who use TryBooking to create amazing events today.
Still not convinced? BOOK A DEMO
Exceptional customer support

Privacy focused event ticketing

No hidden fees or setup costs

Totally free for free events

Low, transparent fees for paid events
Frequently Asked Questions
Why is TryBooking the best alternative to Ticketsource?
Compared to Ticketsource, TryBooking has more functionality, a greater focus on privacy, exceptional customer service and of course lower fees.
Our aim is to make planning your event as easy as possible. So we keep things simple, and have support here to help when you need it.
We do this while keeping our fees low, as running an event shouldn't break the bank. Allowing you to take home more of your hard earned profits from your event.
What fees do TryBooking charge?
There's no cost to get started with TryBooking, and we're totally free for free events.
For paid events, you can choose to use our payment gateway, or link to your Stripe account.
Payments processed by TryBooking
5% processing fee (charged to the event organiser by default)
15p ticket fee (charged to the ticket purchaser by default)
As an Event Organiser, you have total control over who pays which fees - so you can choose whether to pass them on to your ticket purchaser, or absorb them fully.
Payments processed by Stripe
75p ticket fee
Stripe fees: currently 1.4% + 20p (as of 1st January 2023)
As an Event Organiser, you can choose whether to absorb the ticket fee or pass it on to your ticket purchasers. You can't pass the Stripe fees on.
How long does it take to get setup on TryBooking?
It takes just a few minutes to create your account and begin creating your first event on TryBooking.
All that's required to get started it a valid email address, ensuring that you will receive the activation email to complete the registration. Once the account has been activated, you can log in and begin creating your event.
With our Create New Event guide, you'll have your event set up and selling within minutes!
To begin creating your account click Create Seller Account.
Is TryBooking safe?
TryBooking is fully compliant with all information security protocols to ensure the safety of all data stored on our platform.
All data stored on our systems is encrypted using industry standard encryption algorithms, and we are fully compliant with PCI security protocols for the storage of payment data. We never store full credit card information - only storing the last 4 digits to show you which card has been used to make the booking.
We take all reasonable measures to ensure your data is secure. All our data is hosted securely in the United Kingdom. We have several layers of security to prevent against attack, including multi-factor authentication, the use of secure website connections on all pages and firewalls protecting against unauthorised traffic.
What customer support does TryBooking have?
We're proud to offer full telephone and email customer support to all our clients, at no extra cost. You can get in touch with one of our friendly team if you have any questions, or even if you just want us to look over your event before going live!
We also have a Learning Centre which is full of step by step tutorials on how to create and make the most of your event.
Do I have to use a payment processor?
Unlike other Ticketsource alternatives, we don't require you to use a third party payment processor such as Stripe or PayPal.
Instead, all your funds are automatically added to your TryBooking account balance. Once you've verified your banking details, you can then request to withdraw funds.
Can TryBooking handle big events?
Absolutely. We support thousands of event organisers every week with all sorts of events, both big and small - and our system is designed to deal with large volumes of bookings.
Can I integrate TryBooking with other tools?
Yes! We integrate with a wide variety to make running your event easy. Integrations include analytics tools such as Google Analytics and Facebook Pixel and accounting software Xero.
Plus, our open API and webhooks (Notify URL) make it easy for you to build a custom integration to suit your needs.