Event organisers choose our event booking system to:
Sell Tickets Online
TryBooking makes selling tickets online for your next event easy and affordable.
Take Online Registrations
TryBooking's easy-to-use system has everything you'll ever need to create custom forms, collect money and generate powerful reports.
Sell Tickets in Person
Quicksale allows you to sell event tickets at the door, in conjunction with online ticket sales. Our mobile scanning app can assist you managing a smooth intake flow at the event entry.
Our Event Booking System Features
Create
Create your Event Pages in Minutes
Add event name, images, session times, date, location and pricing details and you are ready to sell tickets online. No coding knowledge required.
Flexible Seating Plans
Create interactive seating plans for any venue and organise tables for balls, seminars, dinners and theatre events. Our real-time seating plans allow patrons to select their own seats.
Bespoke Tickets
Use our standard tickets or add your own branding. Control the look and feel of your event pages and tickets by adding banners, sponsor images, logos and backgrounds.
Sell
No Sign Up
Ticket buyers do not need to register with us to make a purchase (no passwords to remember).
Low Ticketing Fees
TryBooking is a powerful and easy to use event ticketing platform. We charge low, transparent fees for online ticketing, there are no extra costs for any of our features and you have access to our superb local support.
No Marketing
TryBooking treats your data seriously. We do not on-sell or provide your data to any 3rd parties or send you emails apart from those relating to your current purchase. Please consult our Privacy Policy for further details on how we handle your data.
Payment Options
We offer the following payment methods: Visa, MasterCard or PayPal.
Promote
Embeddable Widgets
Add our ticket, purchase button or event details to your own web pages in just a few quick steps. Kickstart the ticket purchasing process directly through your website and help drive traffic to your event page.
Email
Email your customers event specific invitation links or informative updates about your event.
Custom Buttons
Create custom buttons, widgets and link to your event pages from anywhere.
Discovery and Sharing
The Buy Tickets page is a hub for interested browsers and people searching for your event. It is an additional way for users to find and book in for your events. They then have the option to share and help spread the word across Facebook, Twitter and LinkedIn.
Manage
Track Sales
Get more insight with the ability to monitor your revenue, sales and scans as they happen using our 40+ real time reports.
Private and Public Events
You can make your events private or public depending on your audience. When your event is private you can send the specific event URL to your audience.
Process Refunds
Process refunds directly to your customer's payment method. Refund the full amount, partial amount or just void the tickets. Add terms and conditions to your pages and tickets to keep your guests informed.
Password Protect your Pages
Restrict access to your event pages with passwords to make sure you control who accesses information and tickets.
Run & Scan
Quicksale
Sell tickets by telephone and face-to-face with TryBooking's Quicksale feature. Make bookings with contact info non-mandatory at checkout. Print tickets, or email directly to customers.
Scan for Large or Regional Events with Gatekeeper
Gatekeeper is TryBooking's scanning software that doesn't require internet for fast secure checking of ticket data. Gatekeeper runs independently from your TryBooking account using a computer and a scanner connected by USB.
Analytics and Reports
Real-Time Reports
Manage and track your online bookings from one easy place. Access powerful real-time sales and marketing reports. Get data on total revenue, ticket sales by type, account transactions and more.
Marketing Reports
Gain strategic insights on your campaigns and marketing effectiveness with our reporting. Access information regarding social media advertising, tracking codes, purchase location and much more.
World-class event solutions for
Frequently Asked Questions
What fees does TryBooking charge?
Should you be taking payment through your TryBooking event, the transaction will be subjected to a processing fee and a ticket fee. 
15p ticket fee (charged to the ticket buyer by default)
5% processing fee (charged to the event organiser by default)
You can choose who pays these fees from within your account.
TryBooking is always free for free events.
Further details on our pricing for United Kingdom account holders can be found via https://www.trybooking.com/uk/pricing
What is an event booking system?
An event booking system keeps things simple with an easy process for users to take registrations for any event by enabling online/electronic registration and payment.  
Can I customise my own event page?
Yes, you can fully customise your own event pages. We also provide widgets to allow you to integrate your event pages onto your website, social media pages, blogs and emails.
Is TryBooking safe?
TryBooking is very respectful of the privacy of all users on its site and PCI compliant. View our certificate of compliance. All pages are HTTPS secure, ensuring an encrypted website connection when navigating across the site. Any personal information that may be used by the TryBooking Site in order to carry out its necessary functions is stored on a secured server protected by firewalls and is hosted in the UK. The data itself is also encrypted to further reduce any risk that your information will be obtained and used by unauthorised access. We do not store your full credit card number, only the last four digits are kept and this is to show you which card you have used to make the booking. Given the increasing sophistication of computer hackers, there are no absolute guarantees that our systems will never be accessed without our consent, or that our systems are impenetrable. However, you can rest assured that we take all reasonable measures to ensure the security of your personal information and the bookings you have made.
What payment methods does TryBooking accept?
TryBooking accepts payments via debit and credit card affiliated with Visa and Mastercard along with payments made via PayPal. 
You yourself can accept cash or cheque as payment, but you will need to complete a few extra steps to record these payments in TryBooking. This will ensure you gather data on all attendees, that you don't oversell your event, and allows you to present all payments in one report. 
To record these bookings within your event you will need to create a promotion code.  This will allow you to process the booking through the system at no cost.
Can I use TryBooking to sell tickets to private events?
Absolutely! You can make your event private and turn off all social media sharing via the Event Publication. It is at your discretion to share your unique booking URL publicly or privately.
How do I start selling through TryBooking?
Ready to begin selling through TryBooking? The first step is to create an account via Create Seller Account. 
Follow the prompts and provide a valid email address as we will send an activation email. Once you have activated the account you will be able to log in and begin creating your event. It's that easy!

We also have a number of setup guides in our Learning Centre to help get you started with creating your event. 
How long does it take to get setup?
It takes just a few minutes to create your account and begin creating your first event on TryBooking.
All that's required to get started it a valid email address, ensuring that you will receive the activation email to complete the registration. Once the account has been activated, you can log in and begin creating your event.
With our Create New Event wizard, you'll have your event set up and selling within minutes!
To begin creating your account click Create Seller Account
How can I link my TryBooking event to my website, blog or social media?
We provide a number of methods to integrate your TryBooking event into your website for a seamless booking experience. 
Choose from our numerous Widget options to have the event embedded into your website, or one of our Event Listings to have new events auto-populate to on your site as they are created, or simply embed the unique direct URL for your event.
The direct URL is ideal for linking to social media pages.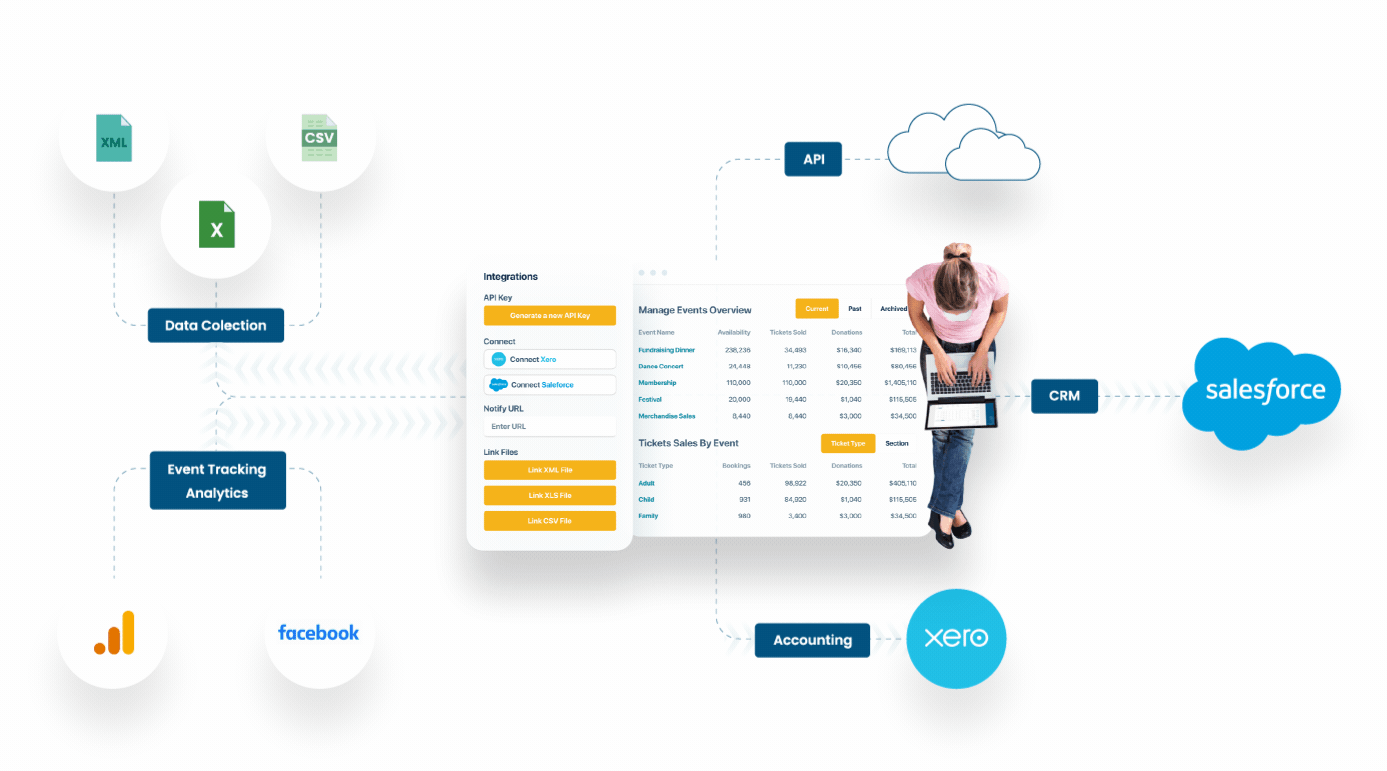 TryBooking integrates with your workflow
Trybooking integrates with Xero, Google Analytics, Facebook and exports your data in various formats such as CSV, XLSX and XML