Saints Anglican School used TryBooking to run a number of very popular performances.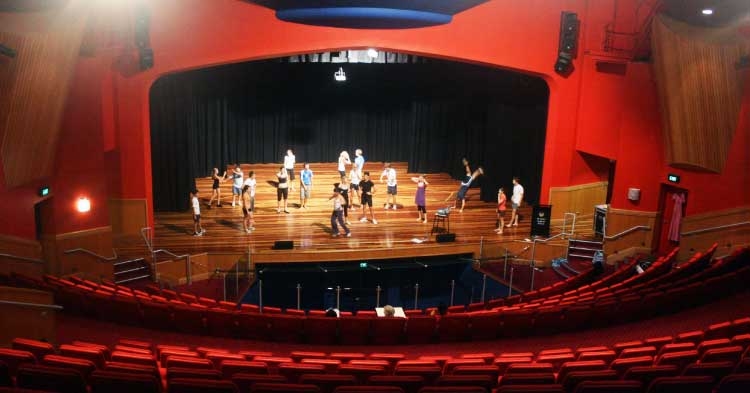 Background
Chris Hopper is a busy woman. As the Performing Arts Administrator of All Saints Anglican School on the Gold Coast, Chris is responsible for the administrative work associated with several very popular and well-attended performances each year. From sourcing costumes to ticketing events, the lead up requires long hours and organisational skills.
Says Chris, "Ticketing has always taken up a lot of my time. In the past, I've manually ticketed every event. I had people coming to my window nonstop to buy tickets. In the four weeks leading up to a performance like Beauty and the Beast, I am literally ticketing from 7.00 am until 7.00 pm every day. And that's on top of my other duties!"
"Not only did I have people continually coming to my window for tickets, but I was accountable for a lot of money and banking. I spent all day receipting cash and cheques, manually entering names into my spreadsheet, allocating seats, writing seat numbers on pre-printed tickets and getting them out to people."
The change
Earlier in the school year, Chris decided to try online ticketing for a popular teachers' performance called Spare Parts. A tabled event, the performance quickly sold out as the school community embraced online ticketing. "Parents loved the change. They thought TryBooking was fantastic and they loved being able to choose their own seats," said Chris.
It went so smoothly that Chris set up online ticketing for their musical production, Beauty and the Beast. A major event in the school calendar, almost every performance in the 530 seat theatre sold out to rave reviews. "This was a longer run than our previous musicals, but even then, just to process the tickets I'd be working from 7am-7pm for, well, literally days! TryBooking saved me weeks of work... and with the time I freed up from ticket sales, I was able to help with costumes!"
Each of the six nights Chris printed off a Door List from the Reports section so the front of house staff could assist patrons who lost or forgot their tickets. "In the lead up I was always checking the Reports to see who had bought their tickets, where they were sitting and how many tickets we had left. "Chris instantly tracked revenue without having to write a single receipt. "I created a discount code so I could take cash payments from parents who didn't want to use their credit cards and at the end I generated reports for our accounts department. That took just a minute or so."
The results
"When I wasn't sure about anything I rang TryBooking and the team was just wonderful! They solved anything in such a short time. I think the support is really great."
Chris used the information she collected to ensure the success of future performances. "We sent a bulk email to anyone who purchased tickets to inform them about our next concert."
"I also used the venue template and so any other school departments now have a seating plan ready to go. And when I hired our hall to a local youth orchestra I was able to show them the template on TryBooking and it makes it easier for them to sell tickets online."
Chris quickly understood how much time she could save with online ticketing, and she wanted to get the most out of it. "When I wasn't sure about anything I rang TryBooking and the team was just wonderful! They solved anything in such a short time. I think the support is really great."
"School holidays came in the middle of our booking period, but that didn't affect us at all this year. I was able to check on tickets sales from home and parents could buy tickets when they wanted to. It was all happening while I was having a holiday. That's what I loved!"
Chris Hopper
Performing Arts Administrator
All Saints Anglican School, Gold Coast