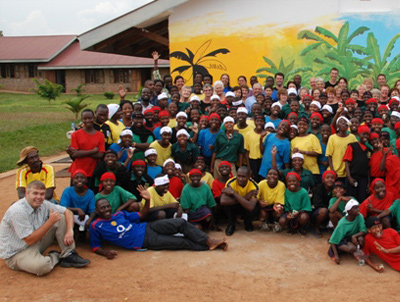 Background
KwaYa Australia Inc is a not-for-profit organisation which promotes cross-cultural partnerships between non-Indigenous and Indigenous Australians by providing the opportunity for individuals to perform in musical exchanges and participate in altruistic life-changing projects. As part of their cross-cultural partnerships, KwaYa hosted The African Children's Choir's first ever tour of Eastern Australia.  The choir held concerts and workshops in Melbourne, Sydney, Blue Mountains, Port Macquarie, Gold Coast and Sunshine Coast.
The African Children's Choir is made up of children aged 7 to 10 years, many of whom have suffered immense devastation due to the loss of one or both parents. Having performed across the world, including concerts at the Pentagon and the United Nations, their goal is to raise awareness of the needs of destitute and orphaned children in Africa and raise funds for continued support of their programs for disadvantaged women and children. Once Choir members have completed a concert tour, they return to their homelands with the tools necessary for bettering their future and receive sponsored education through to university level.
The change
Recently embarking on an Australian tour which comprised workshops, performances, and merchandise sales, KwaYa required the use of a user-friendly, low-cost ticketing system which was how they came across TryBooking.
"TryBooking allowed us to look professional whilst relieving a massive workload on our volunteers," explained Marsha Gusti, Kwaya Australia  President. The event organiser for the Sunshine Coast leg of the tour, Hari Kotrotsios added,  "We could direct all our customers to one location and once the events were listed online, it was a fairly easy and seamless process."
TryBooking helped to "free up volunteer hours to do other things and not have to physically collect money, allocate seats, or match payments. This meant I could focus on other activities," said Marsha.
The TryBooking system allows for real-time data collection and feedback from the booking process which means event organisers can contact attendees when required and flawlessly report back to venue managers, merchandise producers, caterers and any other external parties involved in the event.
"We were very impressed with the amount of reporting that TryBooking affords. Everything is done for us and we can access all info with the tap of a key," said Marsha.  
"I can confidently say that TryBooking reduced our workload by 90% in the ticketing of our events. It also provided reports we never had before." Marsha Gusti, President, Kwaya Australia
Because The African Children's Choir were performing at many venues across Australia, they were able to facilitate the use of the Producer Access function on the TryBooking website. This allowed the host of each venue to have access to the reporting and ticket sales with separate login details, which was a wonderful tool for the local concert organisers because it meant they could access all the data for their particular show.
Marsha Gusti explained the advantages of using TryBooking did not stop there, "to have TryBooking donate back the 30c booking fee for each booking because of our charity status was overwhelming and very much appreciated." As part of TryBooking's community commitment, the booking fee is donated back to TCC Charities who use the service to provide an additional revenue stream for the charity. "Not only are [TryBooking] providing a brilliant product but they are doing so with heart," added the Kwaya Australia Inc. President.
The result
"To have TryBooking donate back the 30c booking fee for each booking because of our charity status was overwhelming and very much appreciated."
The national tour was a sellout, with thousands of guests booking tickets, workshops and purchasing merchandise online with ease.
TryBooking's Charitable Donations Program also donated the 30 cent booking fee back to help with the cause. 
The decision to use TryBooking for the African Children's Choir Tour simplified the booking process and meant that event organisers for each leg of the tour had a centralised method of taking bookings and could access all the event information in minutes. TryBooking removed a significant workload from volunteers and allowed event organisers to devote their time and effort to the shows and workshops.
The Australian tour included 13 concerts and multiple workshops over 6 locations and was a total success. The integration of TryBooking to the ticketing process allowed thousands of people to book for the shows with ease resulting in the majority of the concerts and workshops selling out. Whilst keeping the costs at a minimum and maximising the volunteers' time and effort, Kwaya's  commitment to helping others, paired with TryBooking's Charitable Donations Program, allowed the event to raise awareness about important causes affecting children.
"TryBooking has literally changed our lives for the better! We look forward to an event now with the tedious responsibility of ticket sales, collecting money, collation and reports being managed all by TryBooking."
Marsha Gusti
President 
Kwaya Australia